Undocumented high school students speak out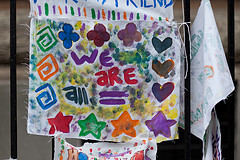 Students from Mira Mesa High School in San Diego wrote an open letter to "Whom It May Concern" that was published by Education Week in March, 2012. The students want their teachers and others to understand what they face upon graduation in a country that doesn't recognize them. Their future prospects are limited due to their immigration status, but they have hope that these issues will be resolved and they'll be ready to face life in America as responsible, contributing adults.
A statement from the letter sums this up:  "Talk to us about college and careers the same way you would with your other students. Encourage our dreams and goals, please. Someday the politicians will figure out what to do with us, and we need to be ready."
The letter speaks for itself and is presented in its entirety below.
To Whom It May Concern:
We are not responsible for our immigration status. Our parents brought us to the United States when we were small children. Many of us have grown up here, and we feel like we belong in America more than we belong in the countries we came from. We know that many Americans don't want us, so we feel like we don't really belong anywhere. We had no control over the decision our parents made to bring us to the United States without legal permission, so please don't hold our legal status against us.
We understand that going to school in the United States is a priceless opportunity, and we know that our families have sacrificed a lot for us to be here. But it can be difficult to focus on school. Sometimes we have family pressures that other kids don't have, like working to send money to family members in our home countries, or to make up for the income someone who was deported was earning. Because our families can't get the same kinds of government aid other poor families can get, life can get really difficult sometimes.
It's hard to live every day with the uncertainty and fear of being undocumented, too. Every day we're afraid that our parents won't come home and we'll have to take care of the rest of the family. Or that someone at school will find out our secret and that we might get in trouble with the authorities. We're not adults yet, but because of these constant worries and responsibilities, sometimes we are expected to act like we are. But we're mostly just like other kids. We're going to do things that don't make sense, and we'll make mistakes, so please just have patience with us.
At school, you tell us that education is the way to a successful life, and we want to believe you, but in our case it's not that simple. We know that most undocumented students don't make it out of high school. Even if we do graduate, our job prospects are limited because of our immigration status. It's difficult, sometimes, to stay motivated to finish school when we know it doesn't mean a better job, or a better life.
We dream of going to college and becoming engineers, teachers, and business owners. But these seem like impossible dreams. No one in our families has attended college in the United States before, and the whole process is really intimidating and complicated. Without government financial aid, college is practically out of reach anyway, and private scholarships are difficult to find. Even a college degree still doesn't change our employment options. Until the laws change in the United States, our only opportunity now to use the education we get is to go back to our home countries and try to get jobs there. That's a really long road to travel, and sometimes it just seems too far.
Most kids we know who are not undocumented look forward to the future. They have dreams about what they will do when they finish high school. They'll go to college, or join the military, or get a job. Maybe they'll travel the world, or start their own companies. They think about buying cars, renting apartments, and enjoying life. But it's different for us. The future is frightening for a student without legal papers. School provides some shelter from our reality, and we know that most of our teachers and counselors have done their best for us. But life gets a lot more challenging, and threatening, once we turn 18 and are out of school. Our family and financial pressures can get a lot more demanding, and the threat of detention and even deportation becomes very real.
But don't feel sorry for us. That's the last thing we need. We have enough things in our lives working against us. Expect us to succeed in school, and give us the support we need to meet your expectations. Understand when life is chaotic for us, but don't let us use that as an excuse to fail. Talk to us about college and careers the same way you would with your other students. Encourage our dreams and goals, please. Someday the politicians will figure out what to do with us, and we need to be ready.
Respectfully,
Your undocumented students
(Their teacher, Mary Jewell, helped the students with their letter. She has worked with English-learners and undocumented immigrants in a variety of settings for more than 15 years. She wrote "Undocumented—With College Dreams," which appeared in Educational Leadership in April 2009).
Find great resources in our
---