What can you do during National Foster Care Month?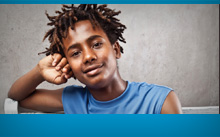 Child abuse and neglect across the United States often results in the removal of children from their homes and placement in the foster care system. Approximately 400,000 children are currently in foster homes as of May, 2011, which is designated as National Foster Care Month.
The White House issued a Proclamation on April, 29, 2011, recognizing the contributions of foster parents, social workers, and faith-based and community organizations. President Obama has called for permanency in the lives of all foster children and the 110,000 children waiting to be adopted.
The Proclamation concluded with a call from the President for all of us to step up "by taking an active role in activities across our country that recognize not only these cherished children and youth, but also the commitment of so many that touch their lives at a most challenging time."
This annual event began in 1988 and today has partners who support the effort to bring stability to the lives of all children including those aging out of the system (usually at 18). No matter how much time you have to give, you can do something positive that will change a lifetime for a young person in foster care. 
For a schedule of events from California to Florida, take a look at this page and get involved.
Find great resources in our
---