Yearbook photos banned at Minnesota school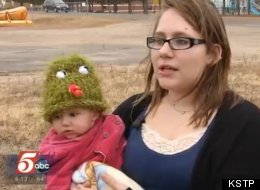 At Menagha High School in Minnesota, seniors are allowed to submit a photo of themselves for the yearbook. There are no guidelines for the yearbook staff but some photos have been rejected in the past. One student wanted a picture of himself holding a gun included – it was turned down.
This year, two issues involving seniors' photos for the yearbook surfaced and ultimately the photos were banned. Senior Stephanie Myers asked for her daughter to be allowed in her photo. The yearbook adviser said no since it would promote teen pregnancy. She took it to the principal who also rejected the idea.
Kyle Kenyon was a student at the same high school. He would have been a senior this year but committed suicide in January, 2012. Friends asked for a memorial page dedicated to Kyle. They were rejected since the school honored Kyle in other ways. The administration expressed concern about promoting suicide as a way for students to gain attention. Protests were planned but didn't materialize. There were rumors of suspensions and exclusion from walking with the graduating class of any student who participated in a sit-down or other demonstration. The protest was cancelled.
Instead, one student contacted the media and went online to voice her opinion. A petition was attempted but students hesitated signing because of possible consequences. Discussions are underway with the school officials.
In another incident of this type, Vista Ridge High School in Colorado was aksed to include a memorial page for senior Devin Scott. He committed suicide in August, 2012 and classmates wanted to honor him with his own tribute page. The administration denied the request but told his mother she could purchase a senior page for $270 that could include an "in memory of" statement with his birth and death dates. She declined the offer, wanting to change the school policy on this and not be an exception to the rule. Instead classmates started the Devin 4 Life organization to provide assistance for bullied students.
What do you think of these two issues? Is leaving Kyle out of the yearbook disrespectful? How else could he be remembered in the yearbook if a memorial page isn't possible? Doesn't Stephanie's photo with her child reflect reality? Is there a student on campus who doesn't know about her child and that she's a teen mom?
For other yearbook photo posts we've covered, see:
Censorship of yearbook photo allows school to profit
How important is your yearbook photo?
Find great resources in our
---