10 Student Free Speech Cases – from Raunchy Photos to Douchebag Principals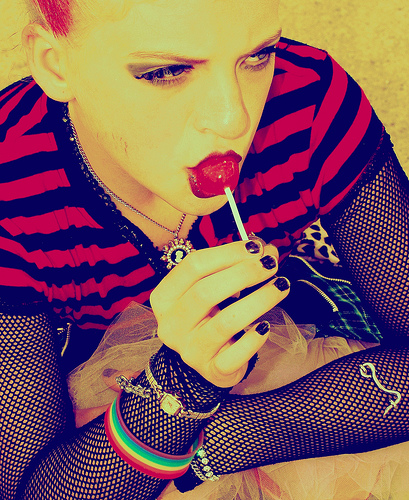 When can a school punish a student for online speech made off campus?
That is the question that schools and courts across our country are confronting for the first time. We believe that one of the following cases will end up before the U.S. Supreme Court in the near future especially considering the decisions across the country are conflicting – some ruling in favor of students' free speech rights while others are ruling against students and for the schools' right to discipline for off campus speech.
1. "Jamfest is cancelled due to douchebags in central office." This is what student Avery Doninger wrote on her private blog at home in addition to sending out a mass email urging students and parents to contact the central office to complain about the cancellation of Jamfest (an annual battle of the bands type festival). Avery was disciplined by her school for her blog post and the Second Circuit Court of Appeals did not agree with her that her speech was protected under the First Amendment. She's appealed her case to the U.S. Supreme Court but the Court denied her request to review the case on October 31, 2011.
2. Raunchy slumber party photos.  In 2009, two high school sophomores took sexually suggestive photos of themselves and posted them on MySpace. In the photos, they simulated sex acts with phallic shaped lollipops. The girls were suspended from volleyball, cheerleading and show choir for the rest of the year.  A federal court ruled that the school's punishment violated the girls' First Amendment rights and that the photos were protected speech.
3. Phony and lewd MySpace profile of principal is protected speech. When the school administration got wind of Jill Snyder's fake MySpace profile of her principal which made inappropriate comments about his sex life including the use of the following URL: myspace.com/kidsrockmybed, Jill was suspended for 10 days. The Third Circuit Court of Appeals ruled in Jill's favor as her speech was protected and there was no substantial disruption at school. The school district in this case has appealed the decision to the U.S. Supreme Court.
4. Another fake MySpace profile of principal refers to him as "big steroid freak."
When Justin Layshock created the fake profile, he used a photo of his principal from the school's website. He also referred to him as a "big whore" and a "big hard ass." Justin also was suspended for 10 days. The Third Circuit Court of Appeals ruled that Justin's off campus speech was protected and the suspension was cleared from his record.
5. Encouraging protest and discussion – free speech right? Roman Caple was in his senior year of college when he encouraged other students to show up at a town meeting and to be prepared to back up their positions. His comments were posted on the college's Facebook wall. The school disapproved of his actions and banned him from attending his graduation ceremony. Roman filed a lawsuit claiming his free speech rights were violated.
6. Cheerleader kicked off squad over private Facebook messages.
Mandi Jackson was a 14 year old freshman when her cheerleading coach asked for the passwords to each girls' social networking account. It was believed that the coach needed to check photos and make sure none contained drinking and smoking. After the coach discovered some private messages from Mandi to her friends that were laced with profanity, she was removed from the squad. Mandi and her parents have filed a lawsuit against the school district claiming a violation of her rights to privacy, free speech, association and due process. The case is still pending.
7. Haters unite and target one student. In 2005, Kara Kowalski created a MySpace page called S.A.S.H., which some claimed meant "Students Against Shay's Herpes." Other students were invited to join and comment about their classmate Shay N. One person uploaded a photo of Shay and photoshopped red dots on her face to suggest she had herpes while other students posted mean and hurtful comments about the student. Kara, the student who created the page, was suspended for 5 days and banned from extra-curricular activities. She appealed her case and the Fourth Circuit Court of Appeals ruled against her and in the school's favor. The court stated that school administrators can take action when off campus speech is mean-spirited and hateful and has a sufficient nexus with the school. Kara has filed an apeal with the U.S. Supreme Court.
8. YouTube video of 8th graders trash talkin' another girl at school. An 8th grade student named J.C. posted a four minute video on YouTube which showed her and some of her friends in a restaurant talking about a classmate and referring to her as a brat, spoiled and a slut. Once the school found out about the video, J.C. was suspended for two days. She challenged the suspension in court claiming a youth crime essay 3rd paragraph. The court agreed with her and stated, "To allow the school to cast this wide a net and suspend a student simply because another student takes offense to their speech, without any evidence that such speech caused a substantial disruption of the school's activities, runs afoul of the law."
9. "Ms. Sarah Phelps is the worst teacher I've ever met!" This is what senior high school student Katie Evans wrote on her Facebook wall in 2007. She invited others to express their feelings of hatred toward the teacher. Katie removed the post 2 days later. When the principal found out about the post (even though it had been deleted), he suspended her for 3 days for cyberbullying and harassing a staff member. Katie challenged the suspension and wanted the cyberbullying write-up removed from her school record based on free speech grounds. She took her case to court and the school settled with her in December 2010 agreeing to clear her record and remove any mention of the incident and to pay her attorney's fees.
10. IM threats result in suspension and time in juvie. Dylan Mardis was IM'ing with his friend when he made threatening comments about bringing a gun to school and shooting certain students. He named a specific student and said that he would like to kill at least five classmates. He was suspended for the remainder of the year and spent 79 days locked up after being charged with disturbing the peace and undergoing a psychiatric evaluation. His parents filed a lawsuit against the school district for violating his free speech rights, but the Eighth Circuit Court of Appeals ruled that "true threats" are not protected under the First Amendment and the school had the right to suspend him for his off campus speech.
Find great resources in our
---