11-year-old swings for childrens' hospital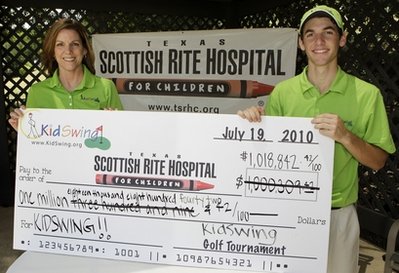 Ben Sater was three years old when he had surgery on his little finger and thumb.   He had a condition called trigger finger which causes fingers to stay in a bent position.  When he was ten he had surgery on three more affected fingers.
The surgeries were done at Scottish Rite Hospital for Children in Dallas, Texas.  The hospital is an orthopedic center that treats children for free.  After his second surgery, Ben vowed that before he went off to college he would raise $1,000,000 for the hospital.
Ben's love of golf turned into a fundraiser that has grown over the past eight years.  Calling his foundation KidSwing, he held his first tournament in 2003, raising $20,000 for his charity.  The foundation has a children's and adult's committee that meet throughout the year to plan the events.  Ben was 11 when the first tournament was held.
 The events are exclusively for kids 7 to 18 and, after selling out every year, grew to two summer tournaments in 2007.  They are held in Dallas and McKinney, Texas.  Each child is asked to raise $100 by getting sponsorships from friends and family.  In 2010, over 400 kids participated in both tournaments.
Ben turned 18 and graduated from high school in 2010.  He can no longer play in the tournament but will remain involved in the charity.  Ben exceeded his goal by raising a total of $1,018,842.00 for the hospital.  He starts his freshman year at Austin College this fall.
Amanda Mitchell, an eight-year participant in the charity event, raised $1,400 over the years she participated.  She said Ben is the "coolest kid ever.  He's inspired me so much to do more."  Ben has been nationally recognized for his work with KidSwing and in the spring of 2010, he was named one of the country's top 10 youth volunteers in the Prudential Spirit of Community Awards. He was honored by former Secretary of State Condoleezza Rice at the Washington, D.C., ceremony.  Congratulations, Ben and enjoy college.
For more about KidSwing and to contribute go to:  www.kidswing.org
Find great resources in our
---