Can I get in trouble for hacking into the school computer?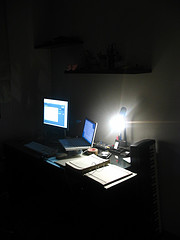 "Hacking" is the act of breaking into someone's computer system without permission. There are state and federal laws against hacking with penalties that include probation, jail or prison time.
Cases of students hacking the school computer and gaining unauthorized access to the school's system are uncommon, but it has happened. Teens have tampered with school computers in order to change their grades, steal tests, and obtain personal information about faculty and staff.
Once caught, the authorities usually take immediate action against the student. Even if criminal charges are not filed, the school may suspend or expel the hacker. Consider the following hacking incidents:
17-year-old Justin Boucher of Wisconsin wrote an article for his school newspaper titled "So you want to be a hacker." He included instructions on how to break into the school's computer. He was expelled for one year.
In June, 2009, 19-year-old Matthew Weigman of Boston was sentenced to 11 years in prison for using computers and the telephone to harass victims – making fake 911 calls to get SWAT teams to respond to unsuspecting victims' homes.
In 2008, 19-year-old Josh Holly hacked into Miley Cyrus' s email account and stole photos of her. Although no charges were filed, two years later in December, 2010, Josh was arrested and charged with possession of 200 credit card numbers with intent to defraud. He was released and ordered to have no access to computers or other Internet devices. In July, 2011, it was decided that Josh would not stand trial in state court for hacking into Miley's account. However, the federal charges remain in place. He may work out a plea bargain on those charges. On August 1, 2011, Josh pled guilty to  charges of hacking and credit card theft. He was sentenced in October, 2011 to three years on probation.
 20-year-old David Kernell hacked into Vice-Presidential candidate Sarah Palin's email account looking for something incriminating to derail her campaign. On April 30, 2010 he was found guilty by a jury of obstruction of justice and unauthorized access to a computer. He faced 20 years in prison and a $250,000 fine when sentenced. On November 12, 2010, David was sentenced to a year and a day in jail followed by three years of probation. The judge recommended that he serve his time in a rehabilitation center and the Federal Bureau of Prisons will decide whether to do so. In January, 2011, the Bureau decided against the judge's recommendation and David reported to prison to serve his sentence on January 10, 2011. The Bureau explained that Kernell has three years of college and the support of his family and that the halfway house space is needed for inmates who have limited skills, resources and community support. In January, 2012, David lost the appeal of his conviction and in October, 2012, the U.S. Supreme Court declined to hear his case.* He was released from probation in 2013. In 2018, David passed away at age 30 from complications with multiple sclerosis.
In 2001, a 15-year-old Canadian boy plead guilty to computer mischief and unauthorized access and was sentenced to eight months in juvenile detention and probation.
An 11-year-old Florida boy broke into his teacher's computer and changed his grades. He was arrested, released to his father and completed a diversion program.
On the other hand, some teens with computer skills have been beneficial to schools and the government. Reid Ellison of California was given permission to hack into his school's computer system as his class project. He did it so quickly that he was asked to help  in securing the system.
Find out more about the government's search for "white-hat" hackers.
*In a shocking statement from Republican presidential nominee, Donald Trump, in July, 2016 follows:
"By the way, if they hacked, they probably have her 33,000 emails. I hope they do," the GOP nominee told reporters, referring to Russia. He also addressed the country directly: "Russia, if you're listening, I hope you can find the 33,000 emails that are missing."
What do you think of a person seeking the highest office in the country, egging on Russia to engage in hacking into servers in the U.S.? Doesn't that put our electrical grid, banking systems, water and power plants at extreme risk?
Find great resources in our
---