Check your pockets before leaving the store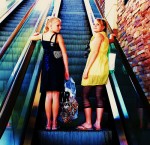 Have you ever been shopping and left a store with an item in your purse or pocket that you didn't pay for? What about eating something from the produce or candy aisle? You may not have intended to steal it but just forgot about it until you got home. Judge Tom has done this* on a few occasions and it's not necessarily a crime. Crimes require "intent" which is something that can be proven by either direct (eyewitness) or circumstantial (opportunity, motive, etc.) evidence.
In October, 2011, Nicole and Marcin Leszczynski of Hawaii were grocery shopping with their 2 year-old daughter, Zofia. Nicole was seven months pregnant with her second child. While in the store, they picked up two wrapped sandwiches that cost five dollars for both. Nicole opened one and munched on it. She saved the wrapper with the price to show the cashier at the checkout stand. However, when she got to the cashier she forgot the wrapper and paid fifty dollars for the rest of her items. Upon leaving the store, they were stopped by security and taken to an office. Store managers wouldn't let them pay for the sandwich telling them they were being
charged with shoplifting
.
It took several hours for the police to arrive. They read the parents their rights and arrested them. They were handcuffed and driven separately to the police station where they were searched, had their mug shots taken and released after paying bail. A representative from the State Child Welfare Services appeared and took custody of Zofia. After 18 hours, the child was returned to her parents. This was her first overnight away from her parents. They were charged with fourth-degree theft and are due back in court on November 28, 2011. The store decided against pressing charges and informed the police of such. They are reviewing their policies in such incidents, particularly when children are involved.
See the parents interviewed here:

What's the lesson here? Yes, laws must be enforced and there's always two sides to every story. But what about common sense and flexibility in enforcement? If every act that crosses the line, regardless of intent, resulted in arrest and prosecution, our jails would be bulging more than they already are. The U.S. has the greatest number of incarcerated juveniles and adults. These type of cases don't merit a loss of freedom much less involvement in the justice system. What do you think?
*at Home Depot or Lowes – a small item like a screw or bolt discovered after paying for other items and leaving the store. Judge Tom returned to the store and paid for the items. There was no involvement with the police or store security.
Find great resources in our
---