Is it legal for a school to have a rule about hair length for male athletes and none for girls?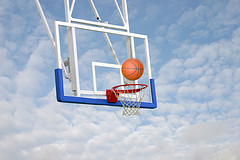 We have written previously on the subject of school rules concerning hair and thought the issue was settled years ago. However, courts are still faced with challenges by students and their parents when a school disciplines a student for breaking the grooming rules.
A. H. was a 17-year-old junior at Greensburg High School in Indiana. He was a member of the basketball team that had an unwritten rule regarding the length of a player's hair. The boys' hair had to be cut above the ears, eyebrows and collar. It was meant to promote team unity and a clean-cut image. The baseball team had a similar policy. However, the track and football teams had no policy. Nor did any of the girls' teams.
A.H. refused to comply with the rules and was removed from the team. He and his parents challenged the rule by filing a lawsuit against the school district. In February, 2014, the Seventh Circuit Court of Appeals ruled in the student's favor. The court  held that since the school's policy treated the boys differently from the girls, it amounted to discrimination based on sex and was a violation of Title IX.
Find great resources in our
---