How old do I have to be to smoke?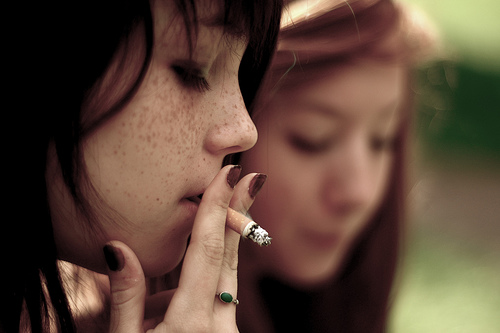 Tobacco—whether in the form of cigarettes, snuff or smokeless (chewing) tobacco—is a subject of great concern to adults and teens. Several states have successfully sued the tobacco industry to recover the rising costs of health care blamed on smoking. Tobacco companies are under pressure from the U.S. Food and Drug Administration (FDA) regarding the dangers of nicotine, its relationship to lung disease and other respiratory ailments, and its addictive properties.
In a December, 2010 report from the U.S. Surgeon General's Office, even smoking one cigarette is a risk. With over 7,000 chemicals in each puff, "That one puff could be the one that causes your heart attack," stated Surgeon General Regina Benjamin.  Approximately 443,000 Americans die from tobacco-caused illnesses each year. There are over 3 million teenagers in the U.S. who are smokers, and 1000 children and teens become addicted every day.*
In September, 2013,  Attorney Generals from forty states signed a letter to the U.S. Food and Drug Administration urging the agency to start regulating electronic cigarettes (e-cigarettes) the same way it regulates tobacco products. A survey conducted by the Center for Disease Control and Prevention indicated that 1.8 million middle and high school students tried e-cigarettes in 2012. Studies show they are highly addictive and deliver a strong dose of nicotine.
E-cigarettes resemble cigarettes but contain no tobacco. Instead, they heat a liquid that contains nicotine into a vapor that's inhaled. In 2015, it was reported that over 400 brands of e-cigarettes are on the market. Some contain formaldehyde, a chemical that may cause cancer. To get a teen's attention they also contain flavorings such as chocolate or bubble gum. Recent studies (2014) show an increase of teens smoking e-cigarettes.
In most states, you must be eighteen to smoke and buy tobacco products. A 1997 FDA ruling requires stores to ask for photo identification before selling cigarettes or chewing tobacco to anyone who looks younger than twenty-seven. If you′re caught violating the law, you and any adult involved can be prosecuted. There are high-tech machines in Tokyo, Japan with electronic eyes that evaluate a customer's skin and wrinkles to determine whether they are old enough to buy tobacco.
For more information about e-cigarettes, go to: www.teen.smokefree.gov
Update: In a twist on help for smokers, Hawaii has become the first state to raise the legal age to obtain cigarettes, including electronic cigarettes, to 21. The law goes into effect January 1, 2016. Definitely a move in the right direction.
Boston, Massachusetts did the same in  December, 2015 joining New York City who raised the age to 21 in 2013.
Even if you don′t smoke or chew tobacco, breathing second-hand smoke has proven to be a health hazard. Consequently, many public buildings across the nation offer smoke-free environments or separate no-smoking sections. If you′re caught smoking in a restricted area, you may be cited. If you′re also underage, you′ll receive a second citation. In February, 2012, the Centers for Disease Control and Prevention issued a report stating that second-hand smoke in cars is linked to breathing problems and allergy symptoms. Overall, 22% of teens and pre-teens were exposed to smoke in cars in 2009. Some states have banned smoking in cars when children are present and others are considering similar legislation.
Teenagers often think it′s okay to light up because their parents and friends smoke. Some parents approve of their children smoking, and some even buy cigarettes for them. If you or a friend is in this situation, take a look at the statistics and decide for yourself if your health and future well-being are worth the risk. Remember – "Your parents did it. How cool can it be?" [from a Mississippi billboard discouraging kids from smoking]
As of 1999, all billboards across the country are banned from advertising cigarettes and smoking. By 2013, cigarette manufacturers will be required to include graphic warnings on all cigarettes sold in the U.S. Over three dozen countries have already mandated gruesome labels in order to deter smoking. See writing titles in an essay for illustrations of the labels that may appear on cigarette packages. They are being challenged and the courts will be deciding whether they'll actually be allowed or not.
In a January, 2011 report from the Centers for Disease Control and Prevention,** tobacco use continues to be the leading preventable cause of death and disease in the United States. More than 80% of established adult smokers began smoking before age 18 years. The CDC analyzed data from the National Youth Tobacco Survey for the years 2000 to 2009 that covered grades 6 to 12. The analysis indicated that in 2009, 8.2% of middle school students and 23.9% of high school students reported current use of tobacco products including cigarettes, cigars, smokeless tobacco, and pipes. Overall, a decrease in tobacco use among this age group was noted over the ten year period.
In March, 2012, the U.S. Surgeon General's Office published a 900-page report that was the first comprehensive look at youth tobacco use in two decades. Among other findings, it concluded that 80% of smokers start by age 18 and that 99% by age 26. The goal of the study is to make the next generation tobacco-free. Surgeon General Regina Benjamin commented that "I don't want to focus on blame, I want to focus on prevention. . . . I want to make sure we're doing everything that we can to prevent kids from ever starting to smoke or use tobacco products." The Department of Health and Human Services reported in 2016 that teens who smoke cigarettes dropped 7% in 2015. They have been tracking 8th, 10th and 12th graders since 1975.
In January, 2018, the Food and Drug Administration dealt a blow to cigarette manufacturer Philip Morris. Their request to approve what they call its "heat-not-burn" device in the U.S. was denied. The device heats rather than burns the tobacco before being inhaled. The panel commented that studies did not show that the pen-like device reduces deadly diseases tied to smoking. A few months later, the FDA warned manufacturers of their liability in producing and marketing liquid nicotine in kid-friendly products similar to juice boxes, candy or cookies. Exposure to liquid nicotine could cause death, seizures or comas in children.
Believe it or not:   In 2010, a 2 year old baby was seen on YouTube smoking as if he had been doing it for years. Rolling the cigarette between his chubby little fingers, Aldi Segando played to the  cameras. The Indonesian boy's father who is 30 started him smoking at 18 months. He commented "He looks pretty healthy to me. I don't see the problem."  However, Diana, his 26 year old mother wept saying, "He's totally addicted. If he doesn't get cigarettes, he gets angry and screams and battershis head against the wall."
In August, 2010, Diana took him to the country's capital, Jakarta, for a 30-day rehab program. Aldi was up to 40 cigarettes a day. He returned home in early September and hopefully will be on his way to a healthier life. The doctors found a thickening on the left wall of his heart which could also be from his obesity. The National Committee of Child Protection in Indonesia reports that more than 30% of children under 10 smoke and that baby-smokers start at age one.
During the summer of 2011, the small town of Light Beach (Plage Lumiere) in southern France became what is believed to be the first place in France and possibly Europe to ban smoking at the beach. A $50.00 fine may be imposed for a violation. Beachgoers wanted a cigarette butt-free area for families and children to enjoy the beach. Complaints about kids building sandcastles while picking out butts got to be too much. In addition, New York City placed a ban on smoking in all city parks, beaches, boardwalks and pedestrian plazas in 2011. E-cigarettes have been banned in Canada, Mexico and Brazil while Australia only allows brands that don 't contain nicotine.

Update: In a twist on help for smokers, Hawaii has become the first state to raise the legal age to obtain cigarettes, including electronic cigarettes, to 21. The law goes into effect January 1, 2016. Definitely a move in the right direction.
*The New York Times Upfront Magazine, December 13, 2010.
**The Journal of the American Medical Association, January 19, 2011.
FYI

American Cancer Society
1-800-227-2345
www.cancer.org
Call the toll-free number to be connected with the American Cancer Society office nearest you. Call or go online to get information about the Great American Smokeout program, how to get help quitting smoking, and information about cancer treatment and prevention.

American Lung Association
1-800-LUNG-USA (1-800-586-4872)
www.lungusa.org
Contact the American Lung Association for information about lung health, smoking, air pollution, current national research reports, and much more.

Arizona Department of Health Services Tobacco Education and Prevention Program
www.azdhs.gov/phs/tepp
The Tobacco Education and Prevention Program′s goal is preventing tobacco use, especially among children.

The BADvertising Institute
www.badvertising.org
The powerful images at this site will make you think twice about cigarette advertising and motivate you to quit smoking (or never start).

GottaQuit.com
www.gottaquit.com
Research on smoking, information on the ways tobacco companies mislead teens, and support and ideas for quitting.

Nicotine Anonymous
Nicotine Anonymous World Services
419 Main Street, PMB #370
Huntington Beach, CA 92648
(415) 750-0328
www.nicotine-anonymous.org
Check the white pages of your local phone book for a group near you. You can also find a meeting in your area by visiting the Web site and searching by state. Offers support toward eliminating nicotine from your life.

NoTobacco.org
www.notobacco.org
Find research on the effects of smoking, fake smoking ads, and tips for quitting.
Find great resources in our
---