Truth & Wisdom from a Teen Prison Inmate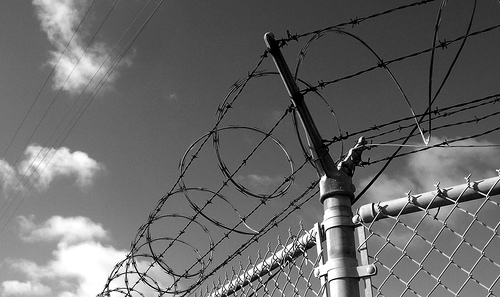 This guest article is written by Micah Neumann.
I often sit and dream of where I could be at this moment, had I not taken for granted my freedom. If only I had taken notice of my ability to live with only logical restrictions, things would be different. Back then, however, I laughed at the laws I was expected to obey. Looking at them as if they were only futile attempts to keep me from doing what I wanted, when I wanted. Now, late, but still in time to change futures, I realize how wrong my actions were. I am left with the hope that my terrible example, and the horrible price I am paying for it, is enough to save you – the reader – from ever devastating your life as I did. A life of crime and reckless behavior, to be sure, will inevitably lead to sorrow. I am thankful to know, and wish to elaborate on, the beauty that comes with simply being alive, healthy, and free.
Prison walls are bland and boring. The white paint chips off of the cinder brick sometimes and leaves the place looking more like a medieval dungeon than anything else. There is a window, the width of a fist, that looks into a sea of fences and razor wire. Look out the window enough, and eventually you'll start thinking God wrapped the earth in barbed wire. But, before you can ponder that, you'll have to wipe the dripping sweat from your face. The cells are so hot the bricks sweat. The only water is from the steel sink and it's hot. The food tastes like garbage, yet, there is never enough. The hunger they force on you is enough to make the garbage flavored meals taste all right, as the authorities swear by God that they are feeding you enough.
The prison population is made up of (as you are always, or should always, be taught) the scum of society. They are loud, angry, moody, often uneducated, and chaotic. Anybody cast into their lair will learn that immediately. Then, the longer you are forced to share their cage, you begin to see the reason for their snarls and their barks. You realize that you have common ground with them, in their hatred of the maltreatment and those who bestow it. Deep inside, you fight to retain your sense of ethics and morals and all the while you yearn for tiny aspects of freedom; the ones you always took for granted. And, through painful suffering, it becomes clear how truly invaluable the outside world really is.
When prison is expressed in words, which is a difficult task, the listener is often left wondering about the reality of the situation. "Surely they cannot treat people like this," they think. "Of course they did wrong, but this is crazy." I've heard it time and time again, that my treatment is inhumane and that I must be exaggerating because, "they couldn't possibly be that cruel." But they are, and they can, and they do. And, they will continue to do so because prison is punishment, and they want that fact to be recognized.
Now, I wish I had obeyed society's simple laws, and appreciated my many rights. I wish I could walk outside at any given time and admire the world. I wish I could sleep without the lights on. I wish I could hug my family daily. I wish I could go to work or school, or even the corner store. I wish I could do these things, but I can't. I can't because instead I chose to rebel. I chose to seek foolish thrills and fast cash. I chose these sweating brick walls with my hard headed, thoughtless actions, and, for God's sake, I urge you NOT to follow my example.
Live life. Love life. Cherish freedom, and always stay focused on your own pursuit of happiness. Just remember that lawlessness calls for consequences, and those consequences, no matter how you sugar coat them, are miserable. Lawlessness will never result in happiness, therefore, it is misery. Yes, lawlessness, is misery.
Find great resources in our
---