Romney T-shirt offends teacher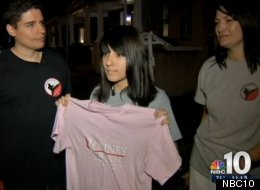 It is common for many schools to allow Fridays to be dress-down or casual days where the dress code is relaxed within reason and students are free to wear more comfortable attire.
But at Charles Carroll High School in Pennsylvania, sophomore Samantha Pawlucy was reprimanded for her T-shirt on Friday, September 28, 2012. She wore a pink Romney/Ryan shirt to school. It caused no disruption or reaction until she went to her geometry class. The teacher asked Samantha if her parents were Republicans and she said she didn't know. Then the teacher reportedly said that the school is a Democrat institution and that her T-shirt was like wearing a Ku Klux Klan shirt. Samantha was told to remove the shirt or leave the classroom. Samantha was embarrassed and left.
Once she told her parents, they requested a meeting with the principal and teacher. Her teacher apologized explaining it was a joke. She was transferred to another class while the matter is under investigation.
What do you think about this? Are political shirts, buttons, patches and the like speech? Isn't political speech protected at school? What are the limits if your school has a dress code? Have you read the rules of dress in your Student Handbook. Check it out on your school's website for the details. You can read more about free expression at school here.
Visit NBCNews.com for breaking news, world news, and news about the economy
Find great resources in our
---