Teen succeeds in fighting airbrushed photos in Seventeen Magazine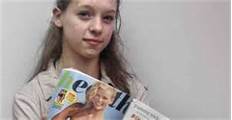 Julia Bluhm is an eighth grade ballet dancer in Waterville, Maine. She is 14-years-old and led a crusade against airbrushed photos in Seventeen Magazine. Julia started an online petition on Change.org that gathered over 80,000 signatures.
The petition titled "Seventeen Magazine: Give Girls Images of Real Girls" requested that the publication print one unaltered photo spread per month. In May, 2012 Julia and a group of other teen girls delivered the petition and signatures to the magazine's headquarters in New York City.
Then, in August, 2012, Julia and her Mom met with editor-in-chief of Seventeen, Ann Shoket. Together they worked out a "body peace treaty" that commits the magazine to feature healthy girls and models regardless of clothing size. Seventeen also agreed to refrain from manipulating images except for the occasional Photoshop for stray hair, clothing wrinkle or zit. When touched up, a before and after shot will be posted on the magazine's Tumblr page.
Congratulations, Julia. The power of one voice is proven once again.
Julia and like activists hope to obtain a similar agreement with Teen Vogue magazine.
Find great resources in our
---