Texas high school looks to football players to end bullying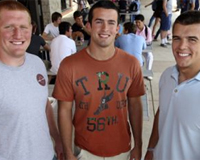 Carri Elliott is a counselor at Johnson High School in San Antonio, Texas. When she heard about a 15 year-old student who was constantly bullied and "just wanted one good day" she decided to do something. "I didn't want to make his life harder," Elliott said. She thought  about how she might bring in "some compassionate muscle."
She recruited three football players to help protect kids who are targets of bullies at school. The three students were allowed to leave their classes a few minutes early in order to get to the freshman's class. Austin Carson, Ryder Burke and Cohner Mokry would escort him to his next class and to the bus at the end of the day. The student, who started out as a shy, reclusive person, opened up in the company of his new friends.
As might be expected, the bullying subsided and within a few months, Carri's "Bully Guards" grew to twelve students protecting five students. For the Fall semester, 2012, eighteen football players will be helping eight incoming freshman. One of the players, Ryder Burke, commented that "We went through high school and have had a great experience. It should be everybody having that great experience." He couldn't have said it better. Every student regardless of size, strength, appearance, gender, race or creed should be allowed to enjoy high school. Being targeted by bullies casts a cloud over what should be four great years in a teenager's life. A student shouldn't have to crave "just one good day."
The Johnson football players partnered with the school's Unity Club to promote a "No Place for Hate" Day on the campus in April, 2012.
If you know about a similar program at your school, let us know about it. We'd like to post a "like" on the school's website. Better yet, if you want to help in the effort against bullying at school, how about enlisting the help of athletes or other extracurricular clubs to ease a freshman's experience during his or her first year? Talk with your principal about this and the head of each team or club. Let us know how your efforts go. This is a program that could exist in every high school with little effort.
In a similar case in Arizona, a 16-year-old sophomore, Chy Johnson, was born with a brain disorder. Some students picked on her everyday because of her differences. Shy explained that some girls threw trash at her. Chy's mother emailed a friend who went to the same school, Carson Jones. Carson happened to be the starting quarterback for Queen Creek's winning team. Carson spoke to his friends and they took Chy under their wing and all became close friends. The bullying has ended, for at least one student. The important aspect of this incident is that it didn't take the administration or the police to get involved. A few good students stepped up and are making a difference in another person's life. As Chy stated, "They save me because I won't get hurt again." Kudos to Carson and his teammates.
Find great resources in our
---