Top 5 prom stories of students fighting for their right to date, dance & dress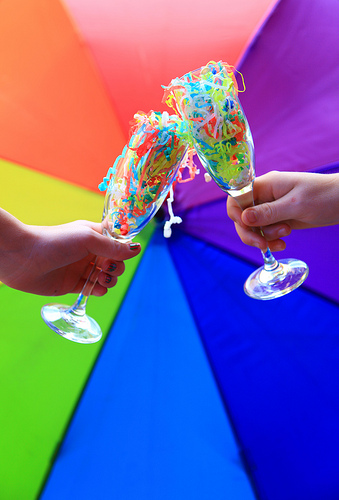 In recent years, there have been several cases involving lesbian, gay, bisexual and transgender (LGBT)  students challenging school officials over the biggest night of the school year for many…prom. We list here the top five prom stories where students, both LGBT and heterosexual students, fought for their right to date, dance and dress as they please and in most these cases, the student prevailed!
1. What not to wear to prom. Schools can set dress standards for proms like requiring formal attire, but they can't make those standards gender-specific. This year 19 year old Monique Verdin was told by school officials from her Louisiana high school that she was not allowed to wear a tuxedo to prom because the school's policy was that girls must wear dresses. The supervisor of the Terrobonne Parish public high schools stated in response to questions about the policy, "It's a tradition. Period." However, after receiving a letter from the ACLU and reviewing case law on the matter, the school decided to allow Monique to wear a tux to her prom. Check out other similar cases concerning prom dresses and tuxedos in recent years.
2. The prom date dilemma. Federal law makes clear that public schools may not discriminate against LGBT students who want to bring same-sex dates to school dances. Last year, Cynthia Stewart from Alabama asked her school principal if she could bring her girlfriend to the prom. He originally said no and that the prom would be cancelled if she insisted on bringing her girlfriend. Again, with the help of the ACLU writing a letter to school officials to remind them of federal law, the school reversed its decision and allowed Cynthia to bring her girlfriend.
3. The Mississippi prom controversy. Constance McMillen's prom was actually cancelled last year so her Mississippi school wouldn't have to deal with her bringing her girlfriend to the prom and wearing a tuxedo. Constance filed a lawsuit and a federal court ruled in her favor that her First Amendment rights were violated when she was prohibited from bringing her girlfriend and wearing a tux. She reached a settlement with her school district which agreed to pay her $35,000 in damages, $81,000 in attorney's fees and to adopt an anti-discrimination policy based on sexual orientation. Constance was harassed and alienated by her peers because of the prom cancellation, which helped lead some states to providing broader protection for LGBT students.*
4. Don't be a drag, just be a queen. Sergio Garcia, an openly gay student in California, ran for prom queen and won at his high school a couple years ago. Although he wore a tux, he stated "don't be fooled, deep down inside, I am a queen."
5. Um, Footloose anyone? Tyler Frost was suspended by his Christian school in Ohio for going to his girlfriend's prom. His school prohibited dancing and rock music. Although his discipline probably would not stand if he went to a public school, private schools can set their own rules.
*On a good note, several states have taken important steps toward protecting all students and strengthening their anti-bullying laws. New York, Illinois and New Jersey for example, have enacted legislation protecting students from bullying and harassment based on sexual orientation and gender identity.
Update: Despite the fact that laws have been enacted, lawsuits filed, legal arguments made and precedent set by courts throughout the country, students continue to be discriminated against when it comes to their chosen outfits and dates for prom. In May of 2016, Aniya Wolf of Pennsylvania was turned away at the door to her prom because she wore a three piece suit instead of a dress.
Update May 16, 2016
Find great resources in our
---