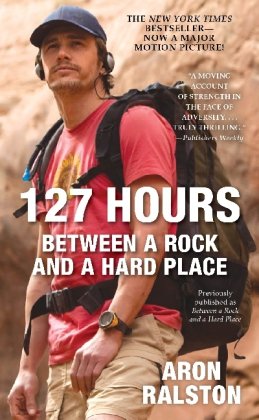 127 Hours by Aron Ralston 
This review is written by guest blogger Michael Olson.
This book is an incredible read for anyone with an adventurous spirit or love for the outdoors. We probably all know the storyline here, especially considering the movie was nominated for several Oscar awards including Best Picture, but despite being completely aware of the story's outcome it is still gripping to read. The story begins with the adventurous Aron Ralston, a skilled mountain climber and outdoorsman, attempting to hike Little Bluejohn Canyon in a remote area of Canyonlands National Park in Utah.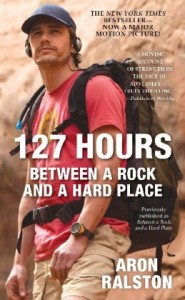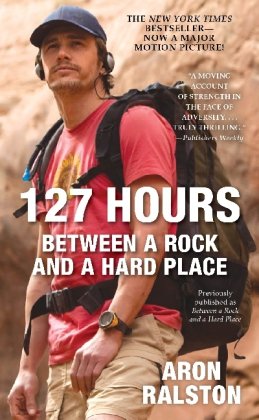 The story begins with Aron parking his truck at one end of the canyon and traversing the 20 mile dirt road on his mountain bike to the opposite end. His plan was to hike the 15 mile canyon back to his truck in about 5 hours and return to pick up his bicycle. Although this sounds extremely challenging for the average person it was actually considered a simple day outing for Aron. Despite his preparedness he is unable to escape a dislodged 800 pound chockstone that crashes on him, pinning his arm tightly against the canyon wall. All of this occurs in the first chapter, setting the table for alternating glimpses of Aron's pre-Bluejohn Canyon predicament and the adventures that preceded his trip to Utah. 
Aron had a goal to climb all 50 plus 14,000 foot peaks in the state of Colorado in the winter. Many of the alternating chapters detail the trials and tribulations he experiences in this quest. One of the more haunting chapters occurs near the Grand Teton Range in Wyoming where he finds himself stalked by a hungry black bear that has just woken from hibernation. This chapter alone could have been made into a movie also. As we continue to return to Little Bluejohn Canyon, Aron's situation grows more desperate by the day as he suffers from dehydration, hunger, and hallucinations. What is truly amazing is that his spirit and will to live never end, leading to the decision that made him famous. 
This reader was particularly impressed with the details Aron provided while he was held prisoner by the boulder. He not only describes the landscape, but his thoughts and emotions as he was coming closer to death with great poignancy. He wrote the entire book without assistance of a ghost writer, confirming what a well rounded individual Mr. Ralston truly became. This book can assist us all through difficult times and as the old sports tag line goes, "It ain't over until the fat lady sings"!
Find great resources in our
---