16-year-old girl threatens to blow up school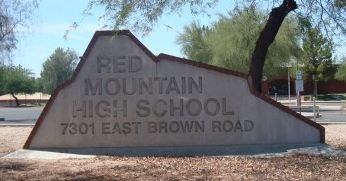 A few days before the massacre at Sandy Hook Elementary School in Connecticut in December, 2012, a student at Red Mountain High School in Arizona posted a video about killing herself, shooting her classmates and blowing up the school. Due to the fact that she is 16-years-old and therefore a minor, her name has not been released. She posted on a YouTube channel how "super easy" it would be to blow up the high school.
The owner of the channel is in Toronto, Canada. He notified the Toronto police about the post who, in turn, notified the authorities in Arizona. The post was traced to her home in Mesa, Arizona. The girl was arrested and taken to juvenile court. She is charged with threatening and intimidating. A search of her home turned up three guns that belonged to her father. They had trigger-locks and were kept in a safe. Her father expressed concerns about some of her statements. Her parents informed the police that she had a history of mental problems.
In the post she said "I now literally have a plan of seriously hurting . . .killing . . .murdering people in my high school." Prosecutors may request that she be tried as an adult. If she remains in the juvenile system, she will be released when she turns 18. In Arizona, that's when juvenile court jurisdiction ends. So the chances of her being transferred on these charges to the adult criminal system are good. That decision will be made by the assigned juvenile court judge. If she is tried and convicted in the adult system, she may be facing years of incarceration and hopefully mental health treatment.
Find great resources in our
---