8 Florida teens face prison for video assault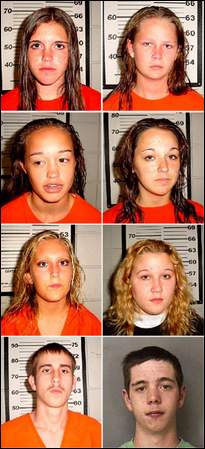 Teens arrested and charged as adults for beating 16 year old
Mercades [16], Brittini [17], April [14], Cara [16], Britney [17], Kayla [15], Zachary [17] and Stephen [18] may be teens but could also be tried as adults and face years in prison for their alleged March 30, 2008 beating of 16-year-old Victoria Lindsay.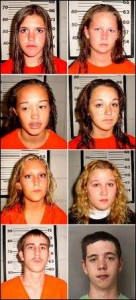 Lindsay, a Florida cheerleader, was lured to a friend's home where the beating was videotaped for posting on YouTube or MySpace. She suffered a concussion, bruising and lacerations from the thirty-minute beating.
Charges dropped against 3 of the teens
Update: Following further investigation into the case, charges were dropped against Cara, Stephen and Zachary in June, 2008.
Is this another example of making a shock-video for fifteen minutes of fame? These kids got their wish but not exactly as planned. What could prevent this from happening again? Should there be filters put on social networking sites to eliminate the possibility of posting criminal or offensive materials? Or is that going too far? What do you think?
Update: By mid-2009, all five girls had accepted a plea-bargain and admitted to various charges. Only one of the girls was given time in jail [15 days for Brittini]. All had to complete community service, pay restitution and serve one to three years on probation.
Similar incident involving middle-schoolers
In a possible copy-cat case, a group of middle school girls [ages 12 to 14] beat up a 12-year-old classmate in April, 2008. The incident happened off-campus but all attended Clarksville Middle School in Kentucky. The beating was videotaped and posted on PhotoBucket. An investigation continues and possible criminal charges may be filed. The victim was treated at a hospital for cuts and bruises and released.
In another incident of incredible stupidity, six teenagers in Chicago were questioned by the police for a robbery that turned into a vicious beating of a 17 year-old victim. The three minute incident was filmed and posted online for the world to see. Some of the attackers were clearly identifiable and the investigation continues. The attackers got away with $200 and a pair of gym shoes. The victim suffered a cut lip, bruising and abrasions. This occurred in January, 2012 in an area where dozens of students have been assaulted since 2009.
Find great resources in our
---