9-year-old girl makes Wheaties box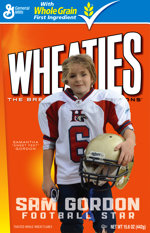 Samantha Gordon, also known as "Sweet Feet" is a nine-year-old phenom in Herriman, Utah. Her YouTube video has gone viral and she nows graces the cover of a Wheaties box. What has Sam done to earn this adoration?
As you know, Title IX is the federal law that mandates the inclusion of girls in sports and other extracurricular activities. It prohibits gender discrimination in public and private (that receive federal funding) schools and sports organizations. Sam has benefited from the law as she plays for a youth football league. In November, 2012, a highlight reel posted on YouTube became a viral sensation. Her moves on the field dodging opponents, tackling on offense and scoring touchdowns is truly amazing. Last season Sam ran for roughly 2,000 yards and scored 35 touchdowns.
Although she is shown on a Wheaties box, it won't be in stores to purchase. Sam thought it was really great to make the cover: "My mom, she told me that this is a real athletic breakfast and that only real athletes get on it and that Michael Jordan was on it for a long time. So I'm really proud to be on the Wheaties box."
The video shows Sam taking a few hard hits from male players but her father said she's only been shaken up from a hit once. You'll also see Sam take out a few players. When asked what her favorite thing about playing football is, she responded "Being a girl out there and scoring on the boys and the boys being like, 'Dangit, I just got beat by a girl.' "

Find great resources in our
---