Alexis fought back with words not fists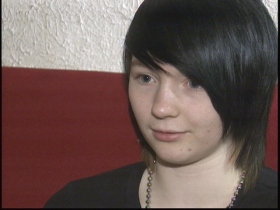 Alexis Xanders is a 15 year old freshman at Newark High School in Ohio. Another girl had harassed her since fifth grade. "I don't really know why. She just never liked me," she said.
In September, 2009, Alexis and her boyfriend were walking home. A group of six to ten classmates followed them. The group egged on her tormenter, Lisa, who punched her twice in the face. The incident was caught on tape. Supposedly, it all started because Alexis is a self-described emo girl and doesn't like hip-hop music or Insane Clown Posse.
Two months later, one of the students who recorded the incident sent her the video. Alexis said the boy felt bad because he didn't do anything at the time. Alexis wanted something to happen, so she uploaded it to You Tube and CNN iReport. A local newspaper reporter saw it and notified the police. In December, 2009, the assailant was charged with assault and unlawful restraint. Other teens are under investigation for inciting the fight.
Although Alexis didn't hit back, she encourages kids to fight back in another way. "Tell somebody and do something about it. Don't just sit there and take it. You can use your words and not yours hands."
Good advice, Alexis. We hope you're well.
Find great resources in our
---