Teen science student studies methamphetamine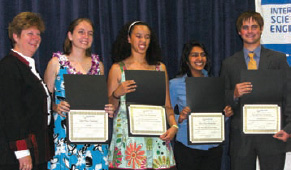 Daniel Martin is a 17 year old student in Phoenix, Arizona. His mother works for the medical examiner's office identifying bodies and determining causes of death.
A conversation with his mother about bodies found in the desert and their condition peaked Daniel's interest. Corpses are often affected by the elements and scavenging animals. However, it seemed that carnivores stayed away from bodies with methamphetamine present. 
Daniel scoured 97 cases on file in the medical examiner's office. He reviewed the toxicology results and photographs of the bodies. His theory was supported by the data. He learned that the more methamphetamine detected, the less the scavenging on the body. Daniel stated "Even just a little bit of methamphetamine in the body meant that there was a massive reduction in carnivore scavenging."
His findings highlight how dangerous a drug like methamphetamine must be if it's poisonous effects can be seen even after death. The animals sensed the danger and stayed away.
Daniel's project earned him a 2009 Intel International Science and Engineering Fair Addiction Science Award, and a $1500.00 scholarship. The title of his project was "The Effect of Methamphetamine on Carnivore Scavenging."
Find great resources in our
---