Another teacher "outed" on Facebook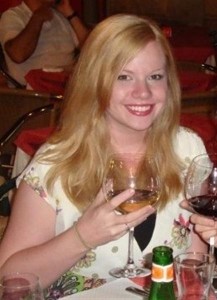 Ashley Payne taught at Apalachee High School in Georgia for two years. While on vacation she was photographed holding wine and beer. In a Facebook entry she posted her plan to go to a local restaurant where a game called "Crazy Bitch Bingo" was played.
In August, 2009, Ashley was questioned by her principal about her Facebook page. Reportedly, he objected to her use of the "B" word and the photos. He said her online conduct was unacceptable and that if she didn't resign her position that she would be suspended. Suspension, he said, would adversely affect her chances for future employment. So, Ashley resigned before school started.
In November, 2009, she sued the school district. She claims that she wasn't told that she could have a hearing before resigning and that the suspension would have been for only ten days. The legal concept of "due Process" allows persons to be advised of what they allegedly did wrong and the right to be heard – to respond to the charges whether civil or criminal.
Everyone needs to use good judgment when online. Your future may depend on it. For a similar story about a teacher's online postings that had adverse effects on her career, see Stacy Snyder's story at:  http://askthejudge.info/will-my-facebook-or-myspace-entries-hurt-me-later-on/219/
In another Facebook outing, 29-year-old Nathalie Blanchard of Quebec, Canada, suffered from depression. For the past year she has been off work receiving sick-leave benefits. However, once she was seen on Facebook enjoying herself on vacation and at a Chippendale's show, her benefits were cut off. She has contacted a lawyer and may seek reinstatement of her benefits. She'll have to prove the photos were part of her recovery and medically necessary. She said that she took three 4-day trips on the recommendation of her psychiatrist.
In November, 2011, Principal Sharron Smalls of Jane Addams High School in New York City felt the heat from a certain Facebook photo. She is seen with a topless male pouring a dark liquid over the two of them. Copies of the photo circulated around school.
Ms. Smalls was already under investigation for credit-padding. Her school was rated as one of the worst in the school district and was facing closure. When she became principal in 2008, she allegedly gave students credit for classes they didn't take. For example, some who took a tourism class were credited with having taken geography. Others took a cosmetology class and were given credit for chemistry. The situation threatens some seniors with being short on enough credits to graduate in 2012. The matter remains under investigation.
Find great resources in our
---