Will my Facebook posts hurt me later on?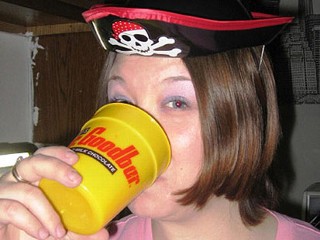 Katie Evans is a college freshman in Florida. In 2007, when she was an 18-year-old high school senior in Florida, she wrote a critical note about her English teacher and posted it on Facebook. Her entire comment was:
"Ms. Sarah Phelps is the worst teacher I've ever met!  To those select students who have had the displeasure of having Ms. Sarah Phelps, or simply knowing her and her insane antics:  Here is the place to express your feelings of hatred."
Katie added a photo of her teacher from the school's yearbook, and invited others to add their comments.  Only three students posted their thoughts – all in favor of Ms. Phelps and critical of Katie.  Two days later, Katie took the site down.  Ms. Phelps never saw what Katie wrote, and she remained in her class for the rest of the semester.
Two months later, the principal saw a copy of Katie's writing and gave her a three-day suspension for cyberbullying and harassing a staff member.  She was also dropped from her Advanced Placement classes for the alleged Facebook bullying incident.  Katie did, however, graduate on schedule in June, 2008.
In December, 2008, she filed a lawsuit against the principal for violating her free speech.  She was asking for removal of the suspension from her permanent school record.  Katie is concerned about job applications and graduate school/scholarship possibilities.  Any future opportunities may be affected by the reference to her as a "cyberbully" in an official record.
Update:  In February, 2010, a federal court denied the school's motion to dismiss the case and granted the principal qualified immunity from the suit. This means her lawsuit is allowed to continue against the principal.  According to her lawyer, Katherine is not looking to get rich off the school district.  She simply wants her record cleared.  "This case is not about money," Matthew Bavaro said, "We are only seeking nominal, token damages. Maybe $100.00.  Some token amount to show that her rights were violated."
In December, 2010, Katie's lawsuit was settled.  She was awarded $1.00 in nominal damages (she didn't sue for the money) and $15,000 in attorney fees.  More importantly, she won a clear record – the school agreed to expunge all mention of the incident from her official records. The Tinker test was the basis of the decision to protect Katie's online speech. As the federal judge stated, "the facts are such that under any form of the Tinker test, Evans's actions cannot be construed as even remotely disruptive."
Check out this April 6, 2009 story in The Washington Post about campus police and their use of social networking sites to keep peace on school grounds.
Stacy Snyder v. Millersville University (2008)
When Stacy was 25 she went to a Halloween party dressed as a pirate.  She posted a picture of herself on MySpace holding a drink with the caption "Drunken Pirate."  Stacy was a student teacher at the time, but with less than outstanding performance evaluations.  Just before graduation she was told that she would not be receiving her teaching certificate.  One of the reasons was that her photo encouraged underage drinking which was inappropriate for a teacher.  Instead she was given a degree in English but is unable to teach in Pennsylvania.
Stacy sued the school but lost her case in December, 2008.  Google yourself every now and then to see if there's anything offensive or that might be taken wrong if seen by others.  Have them removed before applying for a life-changing position or program.
Update: In a recent case, a high school girls' basketball coach in Idaho was fired for a picture that was posted on Facebook for less than 24 hours. In it, she is seen with her fiancé on vacation and they are both wearing swimsuits. He is touching her breast over her bikini top. Since the photo was posted to her account, she was fired while her fiancé, also a coach in the same district, was reprimanded and not fired.
See real stories of teens who faced legal consequences for their online comments.
Find great resources in our
---