Are school records public information?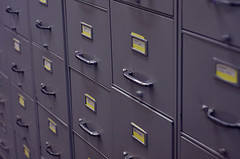 School records, which may include medical, legal, criminal, or mental health information, are not public records. This means that only certain people have access to them. If you′re under eighteen, you may be able to review your records. States and school districts set their own rules regarding access to students′ records and transcripts. Once you′re eighteen, federal law guarantees you access.
The federal Family Educational Rights and Privacy Act* protects the privacy of student educational records. Certain information may be released without prior consent such as attendance dates, a student's name, date and place of birth, address, and honors and awards received. Parents may request that even this information remain sealed. A student's grades, discipline record, mental and medical information are protected. These rights pass to the student once turning 18.
Your parents may view your records upon request. With their permission, usually written, others may be able to see them as well, such as your counselor, psychologist, the police, or a lawyer. Otherwise, the school is required to maintain confidentiality. A subpoena, or court order, may also result in disclosure.
When you′re a junior or senior in high school and start applying to college or a trade or technical school, you′ll take the Scholastic Aptitude Test (SAT), the American College Test (ACT), or similar tests. Your scores will be sent to the schools of your choice and, in turn, those schools will request your high school transcript. You and your parents will need to sign a consent authorizing the release of your records. If you′re eighteen, your parents′ signature isn′t needed.
If, in looking at your high school records, you see something negative or false, you have a remedy. Due process gives you the right to ask the school to remove or correct the statement. If your request is denied, you may appeal that decision and ask for a hearing. The appeal process usually starts with the school principal. If you′re unsatisfied with his or her decision, you may pursue it further—to the school board, the superintendent, and ultimately to the courts.
If you go to a private school, your rights may be different. Due process under the U.S. Constitution only protects students in public schools. However, most states have laws that provide these protections to private school students as well. Check with your school if you′re unsure of your rights. You should be able to obtain a written copy of the school′s policies.
Speaking of grades: The mother of 15-year-old James M. of Florida never finished high school. She wanted more for her son. When James came home in March, 2011, with a 1.2 GPA, she took action. James spent four hours on a street corner with a sign around his neck that Read: "Honk if I need an education."
Remember, once you turn 18 and become a legal adult, the rules change regarding privacy rights. If you get into trouble,  your arrest record and/or mug shot enters the public domain. The Supreme Court has ruled that there is no constitutional right to privacy for a criminal suspect regarding his or her record and mug shot. So the photo and information in the police report becomes public information.**
In July, 2012, the Iowa Supreme Court ruled that FERPA bars the release of records related to a sexual assault by university football players, even if the students names are left out but when the requestor of the records knows the identity of the alleged perpetrators. The case is Press Citizen Co. v. University of Iowa (July 13, 2012).
In 2002, the Supreme Court ruled 7 to 2 that there is no individual right to sue a school district for violating the privacy of a student by releasing grades or other personal information. The appropriate remedy is for the U.S. Department of Education to punish the school by stripping its federal funding (see Gonzaga v. Doe, 536 U.S. 273, 2002).
*FERPA is located at: 20 United States Code, Section 1232g.
***Paul v. Davis, 424 U.S. 693 (1976)., followed in a 2007 case: Bailey v. City of Port Huron (Sixth Circuit Court of Appeals).
Find great resources in our
---