Australia loses teen to cyberbullying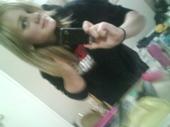 Chanelle Rae was a 14-year-old cheerleader at her high school in Australia. According to her mother, she was a bright and happy teenager who had a few minor problems with kids at school, but nothing that changed her mood.
Until a Friday night in July, 2009. She told her mother that she "wanted to die" after receiving a hurtful message online. They talked about it for an hour or so, and her Mom thought things were better. Later that night, Chanelle committed suicide.
"When you're 14-years-old, if you don't think you have any friends . . . .maybe that's not worth living and obviously it wasn't for her," Karen Rae commented.
Australia's Education Ministry is encouraging young people to talk about their problems especially when they're in a crisis. ' . . .no problem is unsurmountable" said Education Minister Bronwyn Pike.
Do you have someone to turn to when you're down or feeling depressed? A friend or relative? If you don't, you can always call a help or hotline such as:
National Suicide Prevention Lifeline  1-800-273-TALK (8255)
In Australia:  Lifeline at 13 11 14
In England:  www.cybermentors.org.uk  or call at: 0208 771 3377
For more about cyberbullying and bullicide, see:  http://askthejudge.info/fatal-abuse-of-the-internet-by-the-parents/165/
Find great resources in our
---