Caleb Laieski: A Teen Activist for LGBT Youth Rights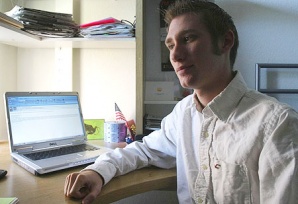 Nearly 9 out of 10 LGBT (lesbian, gay, bisexual and transgender) students experienced harassment in the past year because of their sexual orientation.* Caleb Laieski is one such student, but he is also one of the 50% who actually reported the bullying. At only 16 years old, he succeeded in getting his school and district to update its anti-discrimination policy and include protection for LGBT students in the student handbook.
He is now on a mission to educate all schools throughout Arizona and eventually the country about gay anti-bullying awareness and get them to include sexual orientation and gender identity in the schools' non-discrimination policies. He has sent out more than 5,000 letters to school administrators, state lawmakers and city council members urging schools to change policies and provide more protection for gay students. You can read Caleb's letter here.
Caleb came out when he was in the sixth grade. As an openly gay student, he became the victim of bullying at his high school Willow Canyon. Unlike many teens who struggle as a bullying victim and often don't tell anyone what's going on, Caleb would not back down until his school and the district agreed to including LGBT students in its anti-discrimination policy.
Caleb who is pursuing his GED and then will attend community college, founded his organization Gays and Lesbians United Against Discrimination (GLUAD) when he was only 13. He is currently in the process of making GLUAD a non-profit organization. In addition, he plans to open a homeless shelter for LGBT youth and others in Tempe, Arizona by the end of this year, which would be the first shelter primarily for LGBT homeless teens in the state.
With the number of gay teen suicides appearing to be at an all time high this past year, one of Caleb's main goals is advocacy for LGBT youth and suicide prevention. He wants to stay connected to youth struggling and refer them to the appropriate resources like The Trevor Project when necessary.
Caleb lost a friend to suicide. He knows others who were once suicidal, but have since moved on and are happy to be in college or starting a career. Caleb encourages any LGBT youth struggling or going through a hard time to "stay strong and don't give up." If you are interested in contacting Caleb or learning more about GLUAD, he can be contacted at caleb@gluad.org. Also, check out GLUAD's Facebook page.
*GLSEN's 2009 National School Climate Survey.
Update: Caleb was invited to attend the White House Conference on Bullying Prevention in March of 2011. He is currently advocating for the Student Non-Discrimination Act pending before Congress and has met with over 30 Congressional Representatives during his first week back in Washington. The Student Non-Discrimination Act will help to ensure that discrimination against lesbian, gay, bisexual and transgender students has no place in our country's public schools. Caleb stated, "I am here fighting on the hill for those afraid to fight, but most importantly for those that are no longer with us….every child deserves a safe leaning environment and the right to his/her education." For more about Caleb and his current work, go to LinkedIn.com.
Daniel Radcliffe (aka Harry Potter) is a proud supporter of the Trevor Project. "Teens need to know that their lives are valuable and that they are not alone." The Trevor Project runs a 24-hour confidential lifeline where counselors offer help for LGBTQ teens in crisis.
Find great resources in our
---