Can I get in trouble at school for what I write on my home computer?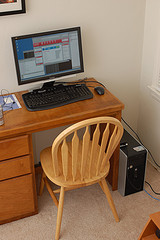 The short answer is "it depends." If your comments on the Internet amount to a threat to anyone or cause disruption at school, yes the school may discipline you. Even though you have constitutional rights as a person which apply at school, there are limits to these rights including your freedom of speech under the First Amendment.
J.S.* was an 8th grader from Pennsylvania. He created a website at home called "Teacher Sux." He used profanity and made threats against his algebra teacher. As a result, the teacher suffered physically and emotionally. J.S. was expelled from school and lost his lawsuit against the school.
On the other hand, Zachariah,** a junior at Franklin Regional High School, composed a "Top Ten" list against the school's athletic director and emailed it to his friends. He was suspended for ten days for 'verbal/written abuse of a staff member.'  The court set his punishment aside since the list didn't disrupt school or interfere with anyone's rights.
18-year-old Nick*** drew his inspiration from a creative writing class at Kentlake High School in Washington. Students were asked to write their own obituaries. Nick took it a step further when he posted a webpage from home containing mock obituaries of his friends. A local TV station called it a hit-list and Nick was suspended. The court ruled in Nick's favor since there was no evidence of a threat or intent to intimidate anyone.
The latest:  In an unrelated case, but on the subject of obituaries, the principal at Stow-Munroe Falls High School in Ohio pulled a story from the school's newspaper, The Stowhion, just before publication in October, 2009. The story covered the recent suicide of a student, his photo and letter from his mother thanking his friends for their support. The principal expressed concern about instigating other students to commit suicide. The school paper had run similar stories in the past without incident. Litigation may follow unless a settlement is reached. Some states have school censorship laws (Student Free Expression laws) but Ohio does not.
*J.S. v. Bethlehem Area School District, 807 A.2d 847 (2002).
**Killion v. Franklin Regional School District, 136 F.Supp.2d 446 (2001).
***Emmett v. Kent School District (2000).
Find great resources in our
---