What if I make a comment on someone else's site?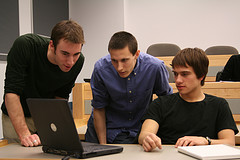 Joshua* went  to Kettering High School in Michigan.  He contributed to a website called "Satan's web page" that was created by another student.  Joshua added a list of "people I wish would die."  He was suspended for one semester and spent three days hospitalized for a mental health evaluation. Joshua succeeded having the discipline removed from his school record since the court found no disruption at school or a threat to anyone and therefore, his free speech rights applied.
This doesn't mean you can say anything on the Internet and get away with it.  If the content of your post constitutes a threat of harm to someone, it may violate a criminal law.  Every state has laws regarding threatening, stalking and harassment.  If you want to see what your state says about this, Google the word you're curious about like "stalking" and your state's name.  You should see a few sites that provide specific information on the subject.  Remember that writing on someone else's computer, no matter where you are, may be traced back to you.
*Mahaffey v. Aldrich, 236 F.Supp.2d 779 (2002).
Find great resources in our
---