Can my boss snoop through my text messages?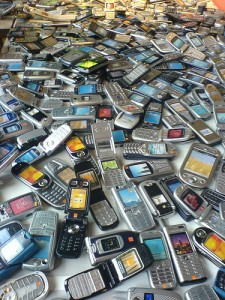 Regardless of your age, the law recognizes that you have a reasonable expectation of privacy at work.  For example, your boss can't search your purse or your wallet unless it's a condition of employment that you've agreed to  when hired. Your employer may have company rules or policies about monitoring, surveillance or drug testing employees. The same is true of your personal cell phone – your texts are private like your journal or diary. However, if your boss provided you with the phone for work purposes, your supervisor could look through your texts depending on the circumstances and terms of your employment. 
If the police are conducting an investigation they could also read your messages, with or without a search warrant, depending on the circumstances and the laws in your state. Bottom line: don't incriminate yourself – be very careful of what you say so that a statement is not misinterpreted as a threat or sign that you're involved with criminal activity. Since this is a new and developing area of law, challenges based on expectation of privacy will be decided on a case-by-case basis.
In June, 2010, the U.S. Supreme Court decided its first case dealing with this issue.  In the case of City of Ontario v. Quon, the court ruled  that government employees have a limited expectation of privacy on their employer-issued cellphones, computers, etc.  The employer may conduct a search of their equipment if the search is reasonable and has a legitimate work-related purpose.  The search may be without a warrant and it must be reasonable in scope.
In July, 2010, the Wisconsin Supreme Court ruled that teachers have an expectation of privacy when using email at school regarding personal matters. The state's public records law does not cover conversations about non-school related matters. See here for more about this case.
Update:  In a case that may be a first of its kind, a 33-year-old man from Michigan was charged in December, 2010 with hacking into his wife's computer. Leon Walker faces 5 years in prison if convicted at his February, 2011 trial. He claims she gave him her password and that he was checking on the welfare of his children. They were separated at the time. His defense may regard the statute itself that was arguably meant to prosecute  identity theft or stealing trade secrets.
Find great resources in our
---