Can the police take your phone & read text messages?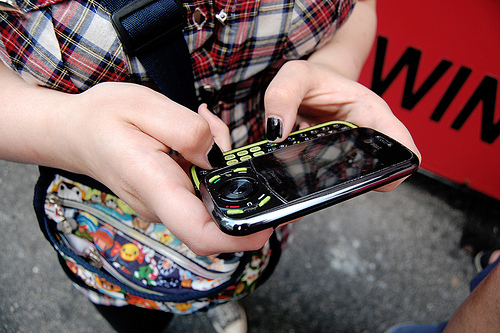 The Law Regarding Cell Phone Search and Seizure
(Please see our recent post from 7/25/14 Can the police search your phone without a warrant?)
Although cell phone searches are a new and developing area of the law, generally, the police cannot take your cell phone and, without consent, read through your texts unless they have at least reasonable suspicion that a crime has been committed or is about to be committed. This is because you have a right to privacy, which includes a right to be free from unreasonable searches and seizures under the Fourth Amendment of the U.S. Constitution. However, this is a new area of the law that courts are addressing for the first time.
Your state may require the police to have a search warrant or probable cause to believe that a crime has been committed before searching your cell phone and reading your text messages. In all states, if the officer has obtained a search warrant from a court, then your text messages can be read. There are also situations where a "warrantless" search may be done – when it's a matter of life or death, the officer's safety is at risk and there's no time to obtain a search warrant.
In January, 2011, the California Supreme Court ruled that the police can search a cell phone without a warrant when taken from a suspect at the time of arrest. A warrantless search "incident to a lawful custodial arrest" is constitutional. Click here for the court's opinion in People v. Diaz (2011).
Many teens and young people feel as though what they do on their cell phone remains private and is personal to them and the person they are communicating with. It's important to always keep in mind especially with today's smart phones that nothing texted, uploaded, etc. is "private." All it takes is for one person to share that message or photo with another before it goes viral. Also, there are numerous ways to recover deleted cell phone messages and photos, so thinking that the delete button will forever erase a regrettable photo or message is clearly wrong.
Consider the case involving Bernard McCray*, which occurred in Georgia in 2008. The police responded to a complaint of sexual activity in a pickup truck near an apartment complex. When the officer arrived, he asked McCray (the driver) for consent to search the truck, which McCray provided. During the search, the officer discovered drugs in the ashtray. He arrested McCray and then searched his cell phone. The officer found images of a minor who sexted McCray, so in addition to the drug charges, he faced possession of child pornography charges. The Georgia court found the cell phone search to be legal and justified.
Remember that since courts are confronting this cell phone privacy issue for the first time, the laws and court decisions vary from state to state.
Cell Phone Rights
Did you know the federal government provides free cell phones and up to 250 minutes per month to low-income individuals and those already on public assistance such as food stamps? This program has drawn both praise and criticism as the debate continues whether cell phone ownership is a "right" or a "privilege." What do you think? For more information about this program, click here.
Find out about students' cell phone privacy rights at school.
*U.S. v. McCray, 2009 U.S. Dist. LEXIS 106 (S.D. Ga. 2009) (unpublished decision).
Find great resources in our
---