Can you get in trouble for sexting?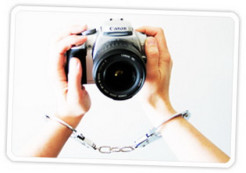 The quick answer is yes, you can get in trouble for sexting, but sexting can also have unforeseen consequences beyond legal troubles that can be devastating like Jessica Logan's story. Legislatures across the country are dealing with this issue and many are attempting to pass sexting laws. Know the laws in your state as well as the other possible conseqences (school, future jobs, emotional distress, etc.) by reading further.
Let's talk about sext, baby.
As you know, sexting is the practice of sending nude or semi-nude pictures of yourself to someone else by cell phone – like texting. It has resulted in serious consequences for some teens. Consider the outcome of Phillip Alpert's behavior in 2008.
Phillip's story: felony charges for consensual sexting….really?!?!

Phillip was an 18-year-old student in Florida when he broke up with his 16-year-old girlfriend. While they were dating, she sent him nude pictures of herself. After breaking up, Phillip became angry and in retaliation, sent the pictures to over 70 people including her parents, grandparents and teachers.
Phillip was charged with sending child pornography and was convicted. He was sentenced in 2008 to five years probation and required to register as a sex offender until he's 43-years-old. In a 2009 interview, Phillip said that "A lot of my friends have not stood by me . . .people don't want to talk to me anymore." Phillip has to attend sex offender meetings and is having trouble finding work.
Jessica's story: a viral pic has devastating and unintended consequences.
Or consider the tragic outcome of Jessica Logan's sext message.  Jessica was a senior at Sycamore High School in Ohio. She sent a nude picture of herself to her boyfriend. After they broke up, he sent the photos to a few friends and they ended up being viewed by hundreds of students at several schools. The harassment Jesse endured was relentless. She was called a slut and a whore, teased and even had things thrown at her. She became depressed and started skipping school.
Jessica decided to confront the problem by going on local television to tell her story. "I just want to make sure no one else will have to go through this again." Two months later, on July 3, 2008, Jessica hanged herself in her bedroom closet.
Her mother, Cynthia Logan, has taken up the cause of educating our nation's youth about the dangers of sexting. In May, 2009, Jessica's parents filed a lawsuit against the school district and school resource officer for negligence in failing to protect their daughter.**  Also named in the lawsuit is her ex-boyfriend and four other students for severe infliction of emotional distress and invasion of privacy.
In February, 2012, Ohio Gov. John Kasich signed the "Jessica Logan Act"* into law. The law adds cyberbullying to school responsibilities and covers acts on buses and at off-campus events. The  law primarily puts the burden on schools to educate kids not to sext and to enact anti-bullying policies aimed at stopping distribution of the photos. Supporters  say the law strikes a fair balance between education and enforcement, but  critics say it doesn't go far enough to punish bullies.
Read Jessica's poem written when she was 17 for a Writer's Workshop at school called "The Door That Lies Before You".
State and federal sexting laws
Child pornography is a crime. Whether you send, receive or even possess sexual photos of teenagers or children it is a felony in most states. And it isn't limited to cell phone texting. Using any form of electronic communication (email, instant messaging, etc.) involving sexual content and minors may have dire consequences. Your life will drastically change if you're caught violating child pornography laws or new sexting laws being passed in some states.
Because numerous teens have been charged with sexting or possession of child pornography as a result of their school or the police searching their cell phones, know your rights about this issue and when the police can read your text messages.
Other resources
In an article written for the National Law Journal in July, 2009, Prof. Vivian O. Berger of Columbia Law School commented about sexting:  "Momentary recklessness can result in mammoth embarrassment and grave damage to reputation: images virally spread on the Internet carry the potential to scuttle college admissions prospects and job opportunities years later."
See Prof. Berger's article "Stop Prosecuting Teens for Sexting" and find out more about this issue.
*Ohio Revised Statutes, Sections 3313.666, 3313.667 and 3319.073.
**Sycamore High School settled with Jessica's family in 2012 and agreed to pay $154,000 in damages. However, no amount of money can bring back their daughter. Please help spread the word about these tragic stories involving cyberbullying, so we can all learn from them and encourage everyone to practice respect and netiquette.
Watch Judge Tom below quickly discuss the risks of sexting including the state laws against it.
Find great resources in our
---