Can you wear a "Jena Six" T-shirt to school?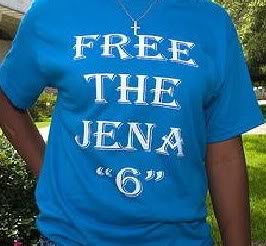 Danielle Super came to school late last month after attending a march. She was wearing a "Free the Jena Six" T-shirt. While her mom signed her in, the Smyrna High School [Tennessee] assistant principal told Danielle that she couldn't wear the shirt on campus because it "could cause a problem."
Danielle changed shirts but then challenged the school's order. She and her mother have gone to court to ask for an order allowing her to wear the T-shirt to school. What do you think? Would the T-shirt be disruptive on campus, under the Tinker test regarding a disturbance at school or violation of others' rights? Talk about this and let us know what you think. 
The "Jena Six" refer to six black  students in Jena, Louisiana. This began at their school when black students sat under a tree on campus that was traditionally used by white students. Shortly thereafter, nooses were found hanging from the tree. Three white students were suspended for this act and no charges were filed.
Then in December, 2006 a white student was beaten and six black students were arrested and initially charged with  attempted murder. Months of racial unrest and protests followed these incidents. By June, 2009 the charges against the juveniles were resolved. They each plead no contest to a charge of battery in juvenile court. They were sentenced to a combination of time served, probation, a $500 fine, restitution to the victim and no contact with the victim. One of the six was sentenced to 18 months in a juvenile facility. The victim's lawsuit against the six juveniles was settled for an undisclosed amount.
In another incident in September, 2007, 15-year-old sophomore Pete Palmer wore a T-shirt to his Dallas high school indicating his support of presidential candidate John Edwards. School officials told him he couldn't wear it on campus.
With a presidential election coming up in 2008, shouldn't schools expect students to think about the issues and express their views about them and the candidates? Can schools censor political speech?
Find great resources in our
---