Cinco de Mayo sparks heat at California high school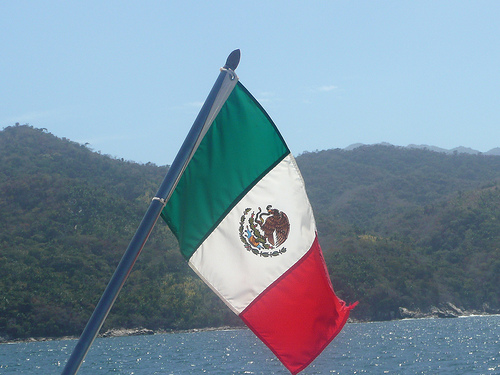 On May 5, 2010, Mexican students at Live Oak High School in California celebrated Cinco de Mayo – a holiday commemorating the Mexican army's victory over the French in 1862.  They displayed Mexico's colors in banners, flags and on their clothes.
In response five students wore T-shirts, shorts and bandannas displaying the American flag.  An assistant principal asked them to change their clothes or turn their shirts inside out.  They refused and were told to go home for the day.  They faced unexcused absences for classes they missed if they went home.  The principal wanted to prevent any fights or confrontations at school between the "Hispanics and Caucasians" as one student put it.  The boys said they had no intention of being disrespectful or sparking fights – two of them, in fact, said they were part Hispanic.
The matter is under investigation with a full report due in June, 2010.  In the meantime, the principal admitted error and stated that the boys did nothing wrong.  The school superintendent further commented that "They have a right to wear those shirts on school campus, on all of our campuses, they shouldn't have been asked to take them off."
Update: In November, 2011, a federal district court ruled in favor of the school's action.* Referring to the Tinker standard, the court ruled that "Because the school officials were responsible for the safety of [students] on a day-to-day basis, the Court finds that they did not violate the First Amendment by asking [students] to turn their shirts inside out to avoid physical harm." An appeal was taken to the Ninth Circuit Court of Appeals. On February 27, 2014, the Ninth Circuit upheld the district court's ruling in favor of the school's action. They ruled that the school did not violate the students' due process or equal protection rights since they anticipated violence or substantial disruption on campus. In March, 2015, the U.S. Supreme Court declined, without comment, to hear this case. That leaves in place the ruling of lower district court and circuit court, essentially deferring to the school district to provide an "orderly educational environment."
How does a school balance safety on campus, free speech and diversity?  This is a challenge in every school, isn't it?  If the situation was reversed, would the response be similar?  What if Mexican-American students displayed Mexico's colors at school on the Fourth of July? Would you be offended?
*Dariano v. Morgan Hill Unified School District.
Find great resources in our
---