Court orders teen with cancer to undergo medical treatment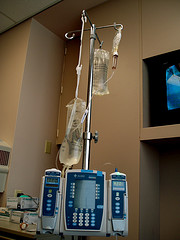 A Minnesota judge has decided that Daniel Hauser, a 13 year old with cancer, is not allowed to refuse chemotherapy based on his religious and philosophical beliefs.
According to Daniel's doctor, he has a 90% chance of surviving his Hodgkin's lymphoma with chemotherapy and without it, it's almost certain he will die. 
Daniel and his family are Roman Catholic, but believe in the natural healing methods and holistic medicinal philosophy of the Nemenhah Band, an American Indian religious group.  After his first treatment, Daniel decided to fight his disease with nutritional and herbal supplements and other alternative medicines.
Despite the family's First Amendment right to freedom of religion, the judge ruled that Minnesota law requires parents to provide "necessary medical help" to their children. 
Daniel and his mother failed to appear in court for a follow up hearing  to check on his compliance with the court order. Daniel's father was present and reported to the court that he last saw Daniel and his mother the day before and that his mother said they were going to leave.  She left her cell phone at their residence, so they could not be contacted.
The judge issued an arrest warrant for Daniel's mother and ordered that once they were located, Daniel was to be placed in foster care and his treatments begin.
Update:  A week later, Daniel and his mother returned home voluntarily. They have agreed to medical care for Daniel and all charges against his mother may be dropped. It was reported in September, 2009, that Daniel remains with his family and has completed the treatments.
As of March, 2010, Daniel remains in remission and has grown nearly a foot in the past few months.  Unfortunately, in April, 2010, his father, Anthony Hauser was diagnosed with leukemia. At the moment he is treating the disease with dietary and natural cures, but does not rule out chemotherapy later.
Update:  In a similar situation, a Pennsylvania couple relied on prayer instead of medical treatment to cure their 2-year-old son. In January, 2009, Kent Schaible died and his parents were held responsible. They were convicted of involuntary manslaughter in December, 2010 and were placed on ten years probation. In April, 2013, another child died while in their care. 8-month-old, Brandon, suffered similar conditions without medical attention until it was too late. The Schaibles were sentenced to 3 1/2 to 7 years in prison.
For more about medical care, see:  http://askthejudge.info/can-i-visit-the-doctor-without-my-parents-permission/58/
Find great resources in our
---