Even at age 28–"Keep your room clean!"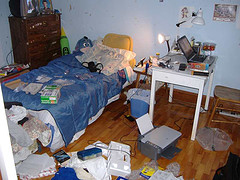 A 28-year-old school board member in Ohio was scolded by his father this week over his messy basement-bedroom.
He reacted by throwing a plate of food at his father and shaking his fist at him.
Dad called 911 and when the police arrived, he decided not to press charges because of his concern about his son's political career. Junior agreed to pick up his room.
Moral of story:
Regardless of your age, if you live rent-free with your parents, follow the rules.
For more about parental discipline, especially for minors, see:  http://askthejudge.info/is-it-against-the-law-to-disobey-my-parents/107/
Find great resources in our
---