Do I lose any rights if I′m pregnant?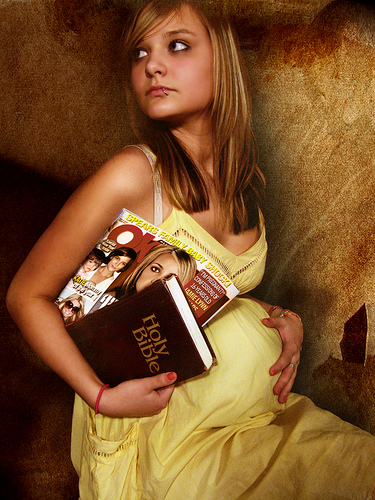 Not long ago, the answer to this question was a definite "yes." In the 1970s, you could have been asked to drop out of school if you were an unwed pregnant minor, or you could have lost your job for taking maternity leave.
U.S. Supreme Court Justice Harry Blackmun said that the sex discrimination laws mean that "women as capable of doing their jobs as their male counterparts may not be forced to choose between having a child and having a job."*
The law now allows you to continue your education if you′re pregnant.You can′t be discriminated against because you′re pregnant or because you′ve had an abortion. Some school districts offer programs for pregnant teens, allowing them to obtain prenatal care and parenting classes, and to stay on track with academic schoolwork. Check to see if your district offers these opportunities.
You may also be able to obtain prenatal medical care, with or without your parents′ consent. If your parents know about the pregnancy and are supportive, all the better. But if they don′t know, or if they oppose it, you can still get the medical attention you and the baby need.
For more info about your rights, see our post on Teen pregnancy & teen parent FAQs
In 1978, the Pregnancy Discrimination Act regarding employment was passed. The Act applies to you whether you′re a teenager or an adult. It prohibits any discrimination based solely on your medical condition, resulting from an abortion or a pregnancy.
If you′re a full-time employee, you may take maternity leave (often without pay) and without fear of losing your job. This affects few teenagers because most aren′t employed full-time. Depending on the circumstances, maternity leave may apply to teenage parents. States may have their own laws on this subject, so check into your local rules or contact the Equal Employment Opportunity Office (EEOC).
The courts have gone one step further in eliminating discrimination against women in the workplace. The Supreme Court ruled in 1991 that employers can′t exclude women of childbearing age from jobs that pose reproductive hazards, such as industrial jobs. Gender-based discrimination, whether to protect the mother or her future children, is unlawful.
Teen births dropped in 2010 for the third year in a row. The Centers for Disease Control and Prevention reported in April, 2012 that pregnancy prevention programs and an increase in the use of contraceptives has contributed to the decrease. Mississippi tops the list with 55 teen births per 1,000 girls while New Hampshire has the lowest teen birth rate at 15.7 per 1,000 girls. To see the report, go to:  www.cdc.gov/nchs/births.htm  For the latest statistics on teen birth rates, read this 2013 post.
*Auto Workers v. Johnson Controls, 499 U.S. 187 (1991).
The National Center for Health Statistics reported in April, 2012 that the percentge of firstborns grew to unmarried parents living together – almost 25% growth since 2002. The study was based on face-to-face interviews with a little over 12,000 women and 10,000 men between the ages of 15 and 44. Sociologist Kelly Musick of Cornell University, N.Y. stated that cohabiting used to be more common among women who didn't graduate from high school but it's becoming more common  for those with a high-school degree or some college. The economy and recession are considered contributing factors to these statistics.
In a study reported in the Obstetrics and Gynecology Journal in 2012, the availability of free birth control led to dramatically lower rates of abortion and teen births. Dr. Jeffrey Peipert of Washington University in St. Louis, Missouri, said there were 6.3 births per 1,000 teenagers in the study. Compare that with a national rate of 34 births per 1,000 teens in 2010.
"What makes you a man is not the ability to have a child but the courage to raise one."  This applies to teen parents, boys and girls, as well.  -President Barack Obama
FYI

Campaign for Our Children
www.cfoc.org
Lots of information about teen pregnancy. The site was designed for parents, but you can go here, too.

National Campaign to Prevent Teen Pregnancy
teenpregnancy.org
This site offers lots of information on and research about teen pregnancy. Read others′ stories, learn about STDs, and much more.

For current CDs, videos and books about teen health and pregnancy take a look at:  http://www.youthtoday.org/
Find great resources in our
---