Do I need a license to go hunting or fishing?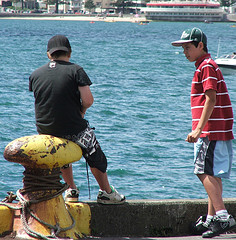 You may wonder why a permit or license to hunt or fish is required in the first place. Here are two good reasons:
• The revenues raised by the money spent on licenses and permits help to support public education about hunting and fishing laws.
• Regulation by issuing permits and licenses also controls the animal and fish populations, and provides protection for endangered species.
Young people under a certain age, usually fourteen or sixteen, may fish without a license. This covers fishing in most lakes and rivers. However, you may need a permit for ocean fishing. A single-day or lifetime sportfishing license is also available in many parts of the United States.
In most states, you may not hunt without a license, regardless of your age. Obey all posted signs wherever you′re fishing or hunting. The penalties for violating the fish and game laws of your state are stiff and may include the loss of your license and equipment. Contact your state game and fish department, tribal council, sporting goods store, or park ranger for information about hunting and fishing laws.
You may be required to pass a written test before obtaining a permit. Taking a firearms safety course is advisable whether you hunt or target practice. Even if it′s not required, check into the classes available in your area.
Find great resources in our
---