Do dress codes at school violate the First Amendment?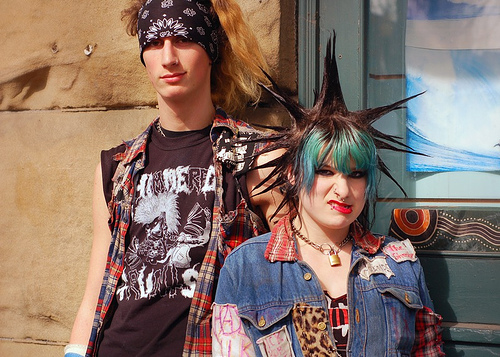 Not only has every parent in America been asked at some point why their kid can't wear what they want to school; so have the nine justices of the U.S. Supreme Court. As a result of a decision they made in 1969, you may be attending a school with a dress code, uniforms, or strict rules about T-shirts and protest buttons.
The First Amendment and Student Freedom of Speech
The case was called Tinker v. Des Moines Independent School District*. During the Vietnam War, a group of parents in Iowa decided to protest the war by wearing black armbands around town during the holiday season. Fearful that the parents′ children or other students would do the same, the Des Moines school district passed a policy prohibiting all students from wearing armbands. Any student wearing one to school would be asked to remove it, and if he or she refused, suspension would follow.
Several students, including John (age 15) and Mary Beth Tinker (13), and their friend Chris Eckhardt (16), wore armbands to school and were suspended. They challenged the school's policy and filed a civil rights lawsuit claiming their free speech rights had been violated.
The Supreme Court crafted a test that still determines whether students′ freedom of speech and expression can be restricted. The court emphasized that students are "persons" under the Constitution in school as well as out of school. As persons, their fundamental rights must be respected by the state.
The First Amendment protects not only pure speech but also i can't write essays, or nonverbal means of communicating ideas, such as a shirt with a slogan, or a pin or button. Since the armband was a form of symbolic speech, it was protected by the First Amendment. However, the court determined that a student′s freedom of expression at school isn′t unlimited. If the expression is either "materially or substantially" disruptive to the normal course of events at school, or if it impinges on the rights of others, it may be restricted.
School Dress Code Policy
A 12-year-old 7th grader from Missouri (Amelia Robbins) was suspended in August, 2008 for returning to school with pink hair. She dyed it in honor of her father who passed away from cancer.
A Kentucky eighth grader was suspended from school in 1996 for wearing black lipstick.
An Ohio middle school has banned baggy, low-slung pants as a safety hazard. Too many boys were tripping at school. In May, 2008 a federal court approved a public school uniform policy for all students – khaki-colored bottoms with a solid red, white or blue shirt with or without the school's logo – no other logos or messages. Kimberley Jacobs, an 11th-grader challenged the policy after 25 days of suspension for violating it, and the court said that her right to free speech, freedom of expression or due process rights were not violated (see Jacobs v. Clark County School District, May 12, 2008).
In Memphis, Tennessee, 45-year-old Kenneth E. Bonds got into an argument with three teenagers outside of his home over their saggy pants. When they refused to pull them up, he took out a semi-automatic pistol and shot at them as they ran away. One of the teens was hit in the buttocks, but suffered minor injuries. Bonds was arrested and charged with aggravated assault in the September, 2010 incident.
In May, 2014, 160 students at Duncanville High School in Texas were suspended for various dress code violations. They included piercings, nose rings, large belt buckles, untucked shirts and not shaving.
Should schools have dress codes or uniforms?
In Tinker, the court held that simply wearing a black armband wasn′t disruptive to school activities or the rights of other students. This decision opened the door for numerous challenges regarding student activities on campus. As a result, students may not be forced to salute the American flag or recite the Pledge of Allegiance, since these are protected symbols of speech.
Under the Tinker test, schools may prohibit certain items of clothing if it can be shown that wearing them is disruptive to the school environment or creates discipline problems. Recently, certain colors, gang insignias, some sports logos, or displays of profanity on clothes have been banned. Generally, if a school′s dress code promotes discipline or good health, it will survive a legal challenge.
The same principle applies to hairstyles at school. The Supreme Court, in Olff v. East Side Union High School District (1972), said,"One′s hairstyle, like one′s taste for food, or one′s liking for certain kinds of music, art, reading, or recreation is certainly fundamental in our constitutional scheme. . . ." However, if a school regulation (such as wearing a hat or hairnet when working in the school cafeteria, or around machinery in metal or wood shop) is related to safety or personal hygiene, it may be upheld as valid.
These rules also apply to private schools if the school receives any federal funding for programs or students. Otherwise, a private school may set its own rules as long as the rules don′t discriminate on the basis of race, gender, religion, or nationality.
Aside from the legal arguments about dress and personal appearance, there is also your parents′ authority to set the rules. Regardless of what is or isn′t allowed at school, if your parents have rules about your appearance or dress, you′re expected to follow them.
*Tinker v. Des Moines Independent School District, 393 U.S. 503 (1969).
You can find further discussion about Chris Eckhardt and the Tinker children in "Teens Take It To Court – Young People Who Challenged the Law and Changed Your Life" (2006); also in the New York Times Scholastic magazine Upfront.
Dress Code Court Cases
In February, 2008 a California federal court upheld the hate speech policy of Poway Unified School District. In 2004, Tyler Harper wore a T-shirt to school that read on the front "I Will Not Accept What God Has Condemned" and "Homosexuality is Shameful, Romans 1:27" on the back. This happened when the school was observing a day of silence to raise awareness of prejudice against gay students. When asked, Tyler refused to take the shirt off and was sent to the principal's office for the rest of the day. The court ruled that the shirt infringed upon other students' rights more than removing it infringed on Tyler's. [see Harper v. Poway U.S.D., 345 F.Supp.2d 1096 (Cal. 2004)]
On the other hand, a Florida federal court ruled on May 13, 2008 that a school district was prohibited from punishing students for expressing support for gay rights. Ponce de Leon High School student, Heather Gillman and others, wore T-shirts with such slogans as "I support gays" and "Gay? Fine by me?" Eight students were suspended and Heather successfully challenged the school's policy.
In March, 2019, a federal court ruled against a charter school in North Carolina whose dress code required girls to wear skirts only. The rule was challenged by the  parents of three girls and the court sided with them finding that it discriminated against girls who wanted to wear pants. One mother commented ""All I wanted was for my daughter and every other girl at school to have the option to wear pants so she could play outside, sit comfortably, and stay warm in the winter." Pants allow the girls to play sports at recess, climb, and avoid teasing by boys for exposing their undergarments. Good call, judge!
On the lighter side, in April, 2008 Pineview Elementary School in Wisconsin held its annual Wacky Week. Students were encouraged to dress either as a senior citizen or a member of the opposite gender. All in fun, right? Some folks objected as this was an affront on family values. (???)
In October, 2007 the Louisiana town of Port Allen banned saggy pants in public. They joined seven other Louisiana communities in prohibiting this style. The law requires pants to be secured at the waist, and not fall below the hips or expose underwear. Violators will be fined $25 to $250. In July, 2011, the town of Hampton, Georgia passed a law imposing a $50.00 fine for wearing saggy pants. A second violation merits a $100.00 fine and for a third infraction, a $200.00 fine. In June, 2013, the town of Wildwood, New Jersey banned drooping pants with a fine between $25 and $200 and 40 hours of community service.
In 2018, the Lake Havasu City, Arizona school district implemented a policy banning shabby clothes at school. It includes wearing torn, tattered and frayed clothing to school and pants or shorts with holes.
On Coke in Education Day at Greenbrier High School in Georgia, senior Mike Cameron wore a Pepsi shirt for the group photo that spelled out "Coke." For being "disruptive and rude" he was suspended for a day. Pepsi called Mike a trendsetter and supplied him with additional shirts. Coke considered it a prank and was not offended.
If you think getting suspended or sent home for a dress-code violation is strict, consider this: In July, 2009, 10 women at a cafe in Sudan were arrested and publicly flogged. Their crime? Wearing pants in public which is against Sharia law.
Regardless of age or job, dress codes may apply to you. In 2009, a federal judge in New York ruled against a lawyer who wore jeans and an Operation Desert Storm baseball cap to court.  The court ruled that it wasn't the message on the cap, which would have been viewpoint discrimination, but all caps were prohibited. The dress code merely enforced "commonly shared mores of courtroom civility" wrote the judge.
Find great resources in our
---