"Don't ask, don't tell" unconstitutional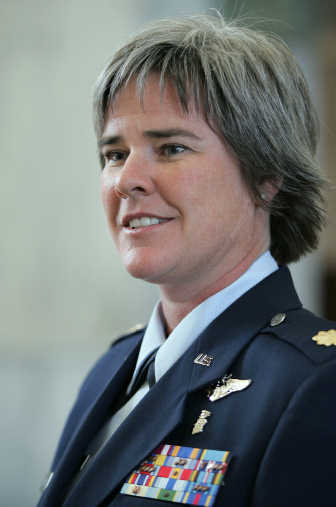 In 2004, Air Force Major Margaret Witt was suspended and then discharged from the service for being gay.  Under the military's "Don't ask, don't tell" (DADT)  policy, the decorated flight nurse was let go once her long-term relationship with a civilian woman was discovered.
Margaret sued the government to get her job back and be reinstated in the military.  Following a six-day trial, a federal judge ruled in September, 2010 that the 1993 law was unconstitutional.
U.S. District Judge Ronald Leighton ruled that the law intrudes on the rights of gay service members.  He further found that Margaret's discharge from the Air Force advanced no legitimate military interest.  To the contrary, her dismissal hurt morale in her unit and weakened her squadron's ability to carry out its mission.
Judge Leighton ordered that Margaret be reinstated into the Air Force and be given her job back.  This is the second such decision finding DADT unconstitutional in the past month.  Margaret's response on the Rachel Maddow show was:  
"I'm ready whenever they are…I can't wait to get back to my unit, to be with my incredible unit members; they're a wonderful group."
 What is your opinion of the "Don't ask, don't tell" policy?  Did it serve a legitimate purpose in the military or was it time to rescind the law?  How does one's personal sex life have any bearing on the ability to follow orders and be a competent and effective member of the armed forces?
Find great resources in our
---