Florida students get 'belted'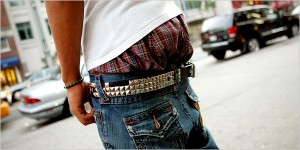 At Plantation High School in Florida, 200 belts were handed out to sagging students on March 27, 2009 which was declared "Pull Up Your Pants Day." Wal-Mart donated the belts to assist in the crackdown [no pun intended] on exposed underwear.  In years previous the trend caught on to the dismay of educators, parents and the police, who didn't know how to deal with it in many cases. The Florida legislature passed a law prohibiting saggy pants on public school campuses. It went into effect at the beginning of the 2011-2012 school year. See a news article about this law and the consequences for violating it here:  http://www.theroot.com/buzz/saggy-pants-ban-florida-lawmaker-hands-out-belts?wpisrc=root_more_news&GT1=38002  Florida joins Arkansas as the second state with a state-wide ban on this trend at school.
Last year President Barack Obama commented on the droopy-drawer trend in an MTV interview:  "You don't have to pass a law," he said. "But that doesn't mean folks can't have some sense and respect for other people and, you know, a lot of people may not want to see your underwear–I'm one of them."
Some cities and school districts have banned baggy pants and the movement seems to be catching on. Popular culture is moving away from the style. Even artists Jay-Z and Sean "Diddy" Combs are often seen in business suits.
15-year-old Teon Cooper used to wear saggy pants, but pulled them up for an obvious reason: "I asked a girl if she liked it and she said not no more."
Update:  In September, 2010, the town of Dublin, Georgia banned saggy-baggy pants in public. The display of underwear is now considered indecent exposure with a fine of $25.00 for the first offense and $200.00 for any additional violations. Opponents claim profiling may result from enforcement of the law and a violation of the First Amendment.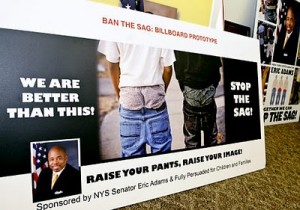 In November, 2010 New York state Senator Eric Adams launched a billboard campaign encouraging youth to pull up their pants. The signs are on display in his Brooklyn district with the message to "Stop the Sag" and "Raise Your Pants, Raise Your Image."  Take a look and listen here to Sen. Adams message:  http://joemygod.blogspot.com/2010/03/brooklyn-no-pants-on-ground.html
In June, 2011, 20-year-old DeShon Marman was arrested at the San Francisco Airport. He was boarding a flight home to New Mexico when he asked to pull up his pants. U.S. Airways dress code forbids "indecent exposure or inappropriate" attire. DeShon's underwear was showing as his pants sagged below his buttocks. He refused to pull them up, boarded the plane and took his seat. After 15 minutes he was removed from the plane and cited for trespassing. Apparently his lack of cooperation also led to a charge of resisting arrest. He was jailed with an $11,000 bond and due in court the next day. The University of New Mexico football player was in San Francisco to attend a friend's funeral.
In April, 2012, the governor of Tennessee signed a law* banning students from wearing sagging pants or any other clothing that disrupts the learning environment. In June, 2013, the town of Wildwood, New Jersey banned drooping pants with a fine between $25 and $200 and 40 hours of community service.
For more about school dress codes, see:  http://askthejudge.info/can-i-wear-what-i-want-to-school/43/
*Tennessee Code Annotated Section 49-6-4019
Find great resources in our
---