Inmate wants to be prosecuted for her brother's murder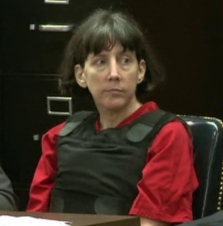 You didn't misread the title of this article. Amy Bishop was a professor at the University of Alabama-Huntsville. In 2010, she walked into a faculty meeting and shot and killed three of her colleagues, wounding three others. She had recently been denied tenure which was suspected as a reason for her rampage. She was convicted by a jury in 2012 and sentenced to life in prison without the possibility of parole.
In 1986, Bishop's 18-year-old brother, Seth Bishop, was shot to death. No one was charged with the crime as it happened at home while Bishop was unloading her father's shotgun. Her mother was present and reported the incident as an accident. However the incident remained an open investigation.
In October, 2012, Bishop's lawyer filed papers with a court objecting to the prosecutor's decision not to charge her with the death of her brother. Considering the sentence she is serving, the prosecutor stated it would be unnecessary to try her for her brother's death. However, Bishop wants to prove at trial that she had a loving and caring relationship with Seth and that his death was accidental.
This raises an interesting question. Does a person have a right to prove their innocence even when the state is not charging them with a crime? What about one's reputation? Is that something worth protecting at the expense of the taxpayer? Once under suspicion of a crime or ethical violation, how easy is it to erase those suspicions and get on with your life? Should the government be required to prosecute everyone who's considered a suspect or help them clear their name? Is that a proper function of government?
Find great resources in our
---