Teen politician acting badly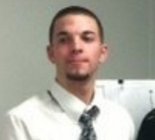 Kyle A. Bower was 19 when he was sworn in as a councilman in the Borough of Alburtis in Pennsylvania in January, 2012. At the time he was sworn in, he had just been placed on two years probation for stalking his ex-girlfriend and escape from the police. He was also ordered to complete 100 hours of community service. At sentencing he admitted being an alcoholic but claimed he was now a different person. In 2011 he entered a treatment program to address his problems. Earlier brushes with the law began in 2010.
Another incident occurred in October, 2012 when Kyle was charged with stealing campaign signs and going on a drunken joyride through a soybean field causing hundreds of dollars of damage. In his car was found two bottles of beer and the election signs.
Bail was set at $5,000 for the two new charges but he won't be released anytime soon because of pending probation violation charges.  He has a preliminary hearing on October 24, 2012.
In the meantime, the local Council President plans to ask Kyle to resign his seat if he doesn't voluntarily leave the post. We wish Kyle the best and hope he works on a full recovery. His political future depends on it and his constituency is entitled to a sober, law-abiding representative.
Find great resources in our
---