Is steroid use by high school athletes a widespread problem?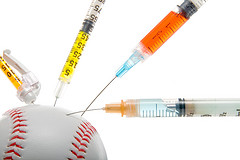 Boys and girls participating in high school volleyball, football, tennis, cross country and all other sports have been subjected to random testing for steroids in Texas this past year.  When professional athletes made headlines about steroid use around 2005, educators became concerned about the drugs coming into high schools.
In the first published report of results on December 1, 2008, it appears that the problem is not widespread.  Of 10,117 students tested in 2008, only four were positive for steroids. This meant a 30-day suspension of the student from playing his or her sport for a first offense. The Texas Legislature may consider scaling the program back when it meets in 2009.
Other states have conducted similar testing programs with much the same results. In Florida a one-year program in 2007 tested 600 student-athletes. It was discontinued after only one student tested positive.  In 2006, New Jersey conducted random tests that also produced one positive result in 500 athletes screened.  Illinois is currently testing their athletes who compete at championship events, but no results are available at this time.
What do you think about random drug testing at school?  See more discussion about student drug testing and what the Supreme Court told 12-year-old James Acton.
Is steroid use a concern at your school? If you suspected a friend of steroid use, what would you do? Are you aware of the dangers of using steroids? Discuss this with your friends and a school counselor to be current on what's up with this health hazard.
Find great resources in our
---