Is the Internet Protected by the First Amendment?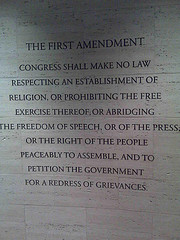 In 1997, the United States Supreme Court stated that the Internet is protected by the First Amendment to the Constitution which means that your right to freedom of speech applies while online.* This does not mean, however, that anything goes – that you can say anything you like about anyone without consequences. The First  Amendment provides protection for speech that is reasonable – for example, you can't stand up in a crowded theater and as a joke, yell "fire!"
The leading case governing student free speech is the 1969 Tinker** decision. The Supreme Court ruled that student speech is protected as long as it doesn't disrupt the school environment or violate the rights of another person. The Tinker test has been applied to most of the cases discussed in this section about "You and the Internet." What you do online, whether by email, in a blog or otherwise may be censored and consequences imposed if inappropriate under the Tinker ruling.   
* Reno v. ACLU, 521 U.S. 844 (1997).
**Tinker v. Des Moines Independent Communty School District, 393 U.S. 503 (1969)
 "Frontline" (PBS) produced a show in 2008 called "Growing Up Online." It's a documentary dealing with issues kids and parents are facing in this cyber-savvy generation. It covers cyberbullying, instant Internet fame, online sexual predators, and more. 
In October, 2008, co-producer of "Growing Up Online" Rachel Dretzin explained why she made the documentary. To view the interview, see below.
Although the Internet and electronic devices don't come with a warning, we think this notice is appropriate:
"Beware!  You are exposing yourself to people who may not have your best interest in mind."
Find great resources in our
---