Jennifer (age 19) is now "CutoutDissection.com"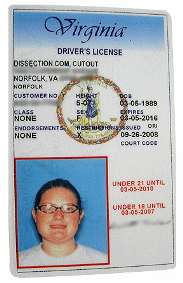 You didn't misread this. Jennifer Thornburg of North Carolina legally changed her name in October, 2008 to CutoutDissection.com. This is maybe the first case of its kind where a URL is taken as a legal name.
Jennifer started opposing animal dissections when she was in middle school. She wanted to do something to protest continued dissections in schools. Now her drivers license reads: Dissection.com, Cutout. Some friends and family still call her Jennifer, but Cutout is catching on.
Nice going, Cutout. Kudos to those who take a positive stand and stick to it.
For more about the right to change your name, see:  http://askthejudge.info/can-i-change-my-name/73/
Update:  In May, 2011, PETA (People for Ethical Treatment of Animals) started a campaign to replace animal dissection in schools by offering money to school districts to purchase virtual dissection software. See the story here:  http://www.eschoolnews.com/2011/05/16/peta-pushes-for-anti-dissection-ads-in-schools/
Find great resources in our
---