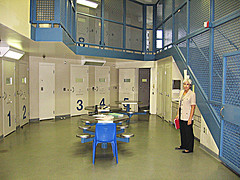 This section of Askthejudge.info contains true stories about teens and crime. From ages 9 to 17, they all spent time in custody – either in juvenile detention, the juvenile department of corrections and/or jail or prison.
You'll read here about three young people who broke the law and appeared in my court for sentencing. The facts are exactly as they happened — nothing has been changed. As a juvenile court judge, I had to hold them responsible for their crimes and decide on the appropriate consequence.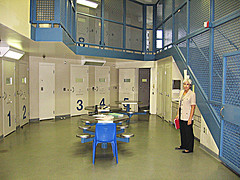 These teens (and one pre-teen) were nervous when they came to court. They were scared and didn't want to be there. But all were sorry for what they did and were willing to accept responsibility for their acts.
These cases raised difficult issues for me as a judge. Philip, 9, was arrested for spitting in his mother's face. How should I deal with someone that young? Should Philip even be in court? Tanya, 14, was arrested for shoplifting a pregnancy test kit. What was more important–to punish Tanya for stealing or to help a young girl who might be pregnant?
Below you'll read the stories of Adam, Philip, and Tanya. Each of them wrote me a letter while in jail–you'll read their exact words here. For 18 more true stories of kids in custody, their letters and updates check out "They Broke the Law–You Be the Judge" .
Adam, 15, a threat made in school.
Adam is the youngest of four children. His parents are divorced. He lives with his mother, has regular contact with his father, and works part-time in construction for his uncle. Adam earns good grades in school, but has been disciplined a few times for problems with his temper. One day in class, Adam makes a comment to a teacher that he is "homicidal"–wants to kill people. He later says that he was joking and the matter is dropped.
Shortly after the 1999 shootings at Columbine High School in Colorado, Adam is in class with a few friends. Other students overhear him talking about the shootings. Adam says that a better way to get rid of certain kids is to put sleeping gas in the school vents, and then go through the school and "kill the people you don't like." 
Columbine Memorial Wall 
Adam is reported to the office, the police are notified, and an investigation is conducted. A short time later Adam gets into a fight with another teen at a party and he is arrested. There isn't enough evidence to determine fault and no charges are filed. But Adam is charged with school interference and threatening regarding the earlier comments. He goes to trial and is found guilty of both charges. If you were the judge, what would you do with Adam? Consider the following before you decide.
Adam says he was joking when he threatened to kill kids at school. But can you believe him? There have been a lot of school shootings recently and these kinds of threats have to be taken seriously. Some of the kids who did the shootings talked about it beforehand, but people who overheard didn't do anything about it. Here you have the chance to prevent a possible future tragedy.
There are some positive things in Adam's favor. His parents assure you that they will keep a close eye on him. He has a full-time job with his uncle and will be supervised at all times. He will attend night school, with strict hours monitored by his family. You receive a recent psychological evaluation on Adam. His tests indicate that he is very intelligent. Adam has also said that he will never go to prison and that he will be very successful someday.
On the other hand, Adam has admitted to trying marijuana on a few occasions. He also has a quick temper and some anti-social traits, as the recent fight shows, and doesn't think he needs treatment or counseling. Are the threatening statements at school something to be worried about, or were they  isolated incidents? What about the possibility that Adam makes future threats and acts on them?
When the day arrived for Adam's sentencing, he was going to school, earning A's and B's, and working with his uncle. I agonized over how to sentence him. I knew that I was seeing Adam and his family for only brief periods in court, when most people are on their best behavior. I also knew that because of his high intelligence, Adam had the ability to carry through on his threat of gassing the school and killing students. I had to strike a balance between what was best for Adam and how to protect the school and community. I wanted to give Adam the message that the community takes verbal threats seriously. Before sentencing, Adam wrote me the following letter: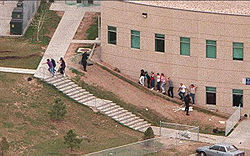 Columbine High School during evacuation, April 20, 1999.
Your Honor, thank you for giving me this chance to speak on my behalf. I never intended anything by my remark. It was a stupid comment and I am terribly sorry that it came to this. The whole thing started in third period after the Columbine incident. The discussion had come up repeatedly in class. While the class was just small talking, I mentioned to my friend off the top of my head that the best way to do it, if it was physically possible, which it's not, is to put sleeping gas in the vents and then go through and kill the people you didn't like. I know I shouldn't have said something like that because that's like commenting on a bomb or a gun in the airport. People take those comments seriously, now I understand that. Everyone makes mistakes and boy have I made a lot of mistakes. I am going to acquire a G.E.D. and attend community college for an associates degree in drafting. Basically who I was five months or so ago I had to drop, I have had to grow up, I can't goof around anymore. I have to get things done and make a way for myself. Sincerely, Adam.
Adam was sentenced to a combination of jail time and probation with specific terms. He was ordered to spend his upcoming spring break [nine days] in jail and think about why he was there and how he planned to continue with his life. He was required to complete 100 community service hours, be drug tested while on probation, attend counseling regarding his anger and self-control issues, and stay off the Internet while on probation [assuming the worst, I didn't want Adam to have easy access to information about weapons].
Adam was successfully released from probation just before he turned 18. He earned his G.E.D. and started college as a psychology major.
Philip, assault against his mother.
Philip is the youngest of three children and lives with his mother. His parents are divorced and he has little contact with his father. Philip's mother used drugs in the past but is now drug-free. He has chores to do around the house and usually gets them done. Philip doesn't like school and often refuses to go. A few incidents with school bullies haven't helped. He failed one grade and switched to a smaller, alternative school. He takes medication because of his hyperactive behavior.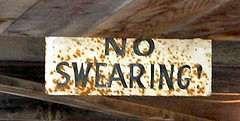 One night, when Philip was 9 and in the 4th grade, he and his mother got into an argument. He swore at her and called her names. She took him to the bathroom to wash his mouth out with soap, and Philip turned around and spat in her face. She called the police and Philip admitted what he had done. He was arrested for assaulting his mother and taken to juvenile hall at 10:30 that night.  [Photo by Okiechick79(Flickr)]
There is always a concern when someone as young as Philip is brought to court. Even though the law in some states allows kids as young as 8 to be charged with a crime, it is a rare event. So when 9-year-old Philip is brought to jail by the police, everyone involved pays close attention to his situation. Should he remain overnight until he sees a judge the next morning? Or can he calm down enough to go home without further incident? If kept in jail, would the experience harm him because he's so young? Or would the stay have a positive effect on his future behavior? Two hours later, Philip is sent home when he agrees  to listen and respect his mother, and cooperate with the probation officer assigned to his case.
Since Philip admitted assaulting his mother, I had to decide what would an appropriate punishment be. A few weeks later, he and his mother returned to court. All reports about him at home and school were positive. His attitude in court was good and his willingness  to stay out of trouble was convincing. But I didn't want to cut him loose just yet. I thought that  some short-term counseling would help.
Things went well for a short time. But then Philip was caught shoplifting. He admitted what he did and spent three weeks in jail. After being released, he settled down for a while but then got caught with marijuana. He spent another two weeks in jail before going home again.
Philip wrote me the following letter during one of his stays in jail:
Dear Judge Jacobs:
While in jail I did  a lot of thinking. If you let me go home I will go on the right path to be successful in life. I don't want to be a burn-out, like some people who smoke pot everyday. I would like to put an end to it right now. If I go home I will follow all the rules at home, school and all probation terms that you give me.
If I keep on this "bad road" I will be in prison soon. So if I change right now I might be able to complete my goal, which is to be a vet and take care of animals. I can be wealthy and support my mom if I quit doing things that are against the law. I have to stop hanging out with the bad friends and have a chance to make new ones. But in detention I can't do anything. It doesn't make me cool to be in detention for stealing or smoking pot. If you let me go home for one month and don't see any changes, I will gladly come back. I say that because I believe I'll stay straight. Forever.
Sincerely, Philip.
Philip was placed on probation and ordered to finish 10 community service hours, take a drug test when told to by his probation officer, and write a letter of apology to his mother.
Philip is now 15, living at home and going to school. He has behaved himself and as you can see from his letter, he has ambitious goals. His pets include birds, chickens, ducks and a snake. He knows if he makes the effort, he can become Dr. Philip. When the time comes, I plan to hand out his clinic's business cards.
Tanya, 14, a stolen pregnancy test kit.
Tanya's parents separate when she's 14. Her father moves to another state and Tanya lives with her mother. She stays in contact with her father by telephone and letters. She has no brothers or sisters. Tanya gets A's and B's in school and enjoys cheerleading.
In the 9th grade, Tanya starts cutting classes and eventually misses whole days of school. She begins hanging out with kids who turn her on to drugs. She has little respect for her mother, but doesn't want to move to her dad's home because she would miss her friends.
While still 14, she is caught in a vacant apartment with one of her friends and she's charged with criminal trespass. The next month she gets into an argument with her mother about going to school and Tanya breaks a window. She is charged with criminal damage. Soon after, Tanya and a girlfriend are out at 1:30 a.m. and the police give them tickets for violating curfew.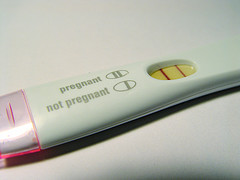 Tanya goes to court on these charges, admits breaking the window and the remaining charges are dismissed. She is placed on probation and required to stay in school and attend counseling. Up to this point she has spent a total of 31 days in jail. Then one night she and a girlfriend are in a grocery store looking at pregnancy testers on a shelf. A security guard observes Tanya opening up the box, removing the tester, and putting it in her pants pocket. She leaves the store with her friend without paying for the item.  [Photo by RadicalBender (Flickr)]
When the security guard approaches Tanya, she denies stealing anything and begins to yell. A minor struggle takes place and the police are called. Tanya is arrested and when questioned by the police, she admits taking the item and says it's for a friend. Tanya is released to her mother to await sentencing.
Before her next court appearance, Tanya gets into more trouble and is returned to jail. Her mother was making arrangements to send her to her father who  had sent money for her trip. Tanya took the check her father sent, changed her mother's name to hers and attempted to cash it. She got caught and a forgery charge was filed against her. While in jail she writes the following letter to me:
Dear Judge Jacobs:
I was in your courtroom before and you gave me a chance by putting me on home detention. Thank you for not putting me in jail right then and there. But as you can see, I messed that up for myself. While in jail this time I have realized a lot of things I never would have at home. I realized how much my mom really does care about me. She visits me and writes me letters all the time. Despite all the stuff I put her through, she still stays by me and tells me that everything will be okay. The best thing is that when she visits me we actually talk instead of fight.
Another thing I have realized is there are consequences for my actions, and if I keep doing what I am doing, then I'll keep going down this path. And I really don't want to be someone who goes in and out of detention centers. I want to be someone who makes something of herself in life. I don't want to spend my teenage years in jail. I believe I am a really good kid and can do better than that.
Sincerely, Tanya.
Tanya was brought into my courtroom for sentencing. Her mother stated that she had seen a change of attitude over the past month. She thought it best for Tanya to live with her father and Tanya agreed to give it a try. She was continued on probation, placed with her dad out of state, and required to attend counseling.
Tanya admitted that she had a boyfriend and that they were sexually active. I told her and her mother that they should talk together about the responsibilities that go along with being sexually active–the risks involved, both physically and emotionally. I asked her mother to pass along to Tanya's father what we had discussed and that I expected her to follow all probation terms even though she'd be living out-of-state. She could always be brought back if she violated her probation again.
After her move, Tanya began individual and family counseling. There were a few conflicts at first [curfew, smoking, etc] but, overall, Tanya settled into a daily routine. Tanya was released from probation after 1 1/2 years. She moved in with her boyfriend, works part-time as a cashier and babysits. Her plan was to become a teacher or juvenile probation officer.
For additional true stories of teens in jail or prison, take a look at "They Broke the Law–You Be the Judge" at www.freespirit.com.
Find great resources in our
---