Lies result in teen's deportation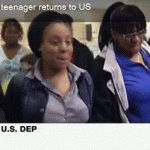 Jakadrien Lovece Turner was fourteen years old when she ran away from home in November, 2010. The Texas girl remained on the run until April, 2011, when she was arrested for theft. She gave the police a false name and claimed to be from Colombia, South America.
The police ran her name through databases in an attempt to verify her identification. Nothing came up. Jakadrien maintained her position that she was Tika Cortez throughout this process. When she was released from jail, she was turned over to Immigration and Customs Enforcement (ICE), a federal agency. Coincidentally, the fake name she gave belonged to a Colombian illegal immigrant who had warrants out for her arrest.  An immigration judge ordered her back to Colombia. She was issued a travel document permitting her to enter Colombia, and was granted Colombian citizenship when she entered the country.
Eventually located in Bogota, Columbia by the FBI working with U.S. and Colombian authorities, Jakadrien's story began to unravel. Questions arose about how an African-American girl who doesn't speak Spanish could get past so many officials and become a citizen of another country without any verification of her foreign national status. After a month in a Colombian detention facility, Jakadrien was returned to Dallas, Texas in January, 2012.
What's the lesson here? Beyond the obvious errors in the system, here in the U.S. and abroad, it's a story of how a web of lies can backfire in unexpected ways. A minor falsehood to a police officer is a crime in many jurisdictions. Beyond the legality of the statement, however, are the unknown consequences of maintaining the lie instead of admitting it before everything gets out of control. The web grows and entraps the spinner until there's no way out. As someone once said "The truth will set you free" as it eventually did in Jakadrien's case.
Find great resources in our
---