"Look for the good days. Keep your chin up. School ain't going to last forever"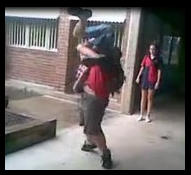 These are the words of a 15 year-old student in Sydney, Australia. Because of his weight, Casey Heynes has been picked on at school for years. Told by bullies to lose weight and called "fatty" on a daily basis, Casey took a stand in March, 2011. He had been slapped, teased, even duct-taped to a pole on one occasion.
Approached by 12 year-old Richard Gale, Casey once again stood there while the bully punched him in the face and stomach. After a few blows, Casey grabbed the boy, picked him up over his shoulders and threw him down. The incident was videotaped by another student and posted on YouTube. In a short period of time, it was seen by thousands around the world. The bully suffered a bruised knee along with a bruised ego.
"Everything just built up for three years and anger came out" said Casey. "I wasn't really thinking. I was just like, Yay. Finally it's over." Casey knew he was an easy target, since he never retaliated. At one point in 2010, Casey contemplated suicide. "I started to put myself down. All the crap just kept piling on." The bully this time, Richard Gale, and others would continuously slap him across the back of the head.
Although the video has been removed by YouTube, it's on many sites that passed it on for the world to see. Casey has become a hero to many. Facebook pages that support him in defending himself have thousands of fans. As Casey concluded, "All I wanted was (for the bullying) just to stop."
Is self-defense acceptable at school? Do you think Casey did the right thing? Watch the video below and then decide the ethics of the situation. Some experts are concerned about additional bullying now that Casey has made TV appearances and done radio interviews. One Australian suggested that Casey could have picked Gale up and held him in a bear hug or just walked away. What do you think?

Find great resources in our
---