Middle school teacher bullies student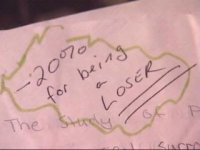 A sixth-grade teacher in North Carolina wrote "loser" in red ink on a student's paper in November, 2009. The child's mother complained but little was done to Rex Roland. The teacher at Enka Middle School explained that he likes to joke with students and that's part of his teaching style.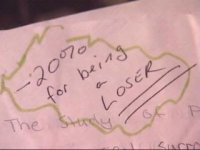 Roland repeated his bullying of the same 11-year-old student in March, 2010. This time he wrote "-20% for being a loser" with "loser" underlined.  Her mother filed a complaint and removed her daughter from Roland's class. He reportedly apologized to the student's mother.
The school district suspended Roland for two weeks without pay and stated, "Regardless of the intention of or context, demeaning or derogatory comments made to students by school staff are unacceptable and will not be rationalized or justified by the school system." It is unknown how many students were subjected to Roland's humor in his twelve years at the school. As a result of this incident, the child has received numerous text messages both in support of reporting the incident and critical of her actions.
Find great resources in our
---