Middle school teacher tackles bullying with software program

We recently came across a software program designed to protect victims and bystanders from ongoing bullying. Created by middle school teacher, Joe Bruzzese* of California, Sprigeo provides 24/7 anonymous reporting with no fear of retaliation.
Bullies use intimidation and threats of continued violence to keep their victims from reporting. Bruzzese's program allows a student to file a report from the Sprigeo homepage, or by connecting to Sprigeo from their school's website or any internet-enabled device. The report is forwarded directly to the principal's email without identifying the reporter if not disclosed.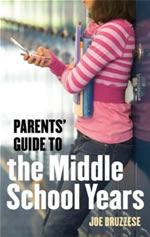 Sprigeo maintains it's own database of reports with features to tract and document bullying and safety incidents. The program is being used by schools in nine states with others considering its use.
As Bruzzese states "Doesn't logic dictate that if you don't feel safe, you are not prepared to learn?" Over 100,000 students skip school every day out of fear of being bullied. Sprigeo and other bullying prevention programs will assist in this global epidemic.
*Joe Bruzzese is the author of "A Parents' Guide to the Middle School Years" and hosts a regular show on Blog Talk Radio. Learn more at Joe's site the Middle School Years.
Find great resources in our
---