Miranda warnings and the 19-year-old Boston bomber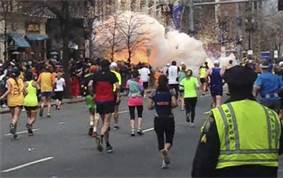 As you know by now, the annual Boston Marathon was tragically the target of terrorists on April 15, 2013. Four hours into the race and near the finish line, two bombs were detonated killing three people and injuring over 250 others. The deceased included an eight-year-old boy and two young women in their twenties. During the hunt for the suspects a young police officer was shot and killed on a university campus.
Days later one of the bombers, 26-year-old Tamerlan Tsarnaev, was involved in a shootout with the police and was killed. Shortly after, his 19-year-old brother, Dzhokhar Tsarnaev, was injured and taken into custody. He was taken to a hospital where he received treatment for his injuries and was later transferred to a federal prison pending charges.
Tsarnaev is charged with  use of a weapon of mass destruction and malicious destruction of property resulting in death. Since  Tsarnaev is over 18, he will be prosecuted in adult court and, if convicted, face a prison term or the death penalty. Thirty-two states and the federal government have the death penalty available as a consequence in murder cases.
The Miranda warnings are the standard lines you've seen many times on TV and in movies. Once a law enforcement officer has someone in custody (not free to leave) they are required to read that person their rights before questioning or interrogating them: "You have the right to remain silent; anything you say can and will be used against you in a court of law; you have the right to an attorney; if you cannot afford an attorney, one will be provided for you. Do you understand the rights I have just read to you?" Because of a Supreme Court case in 1967 (In re Gault) these warnings apply to juveniles as well as adults. The police read their Miranda cards to thousands of suspects across the country everyday.
A legal question that will be part of this prosecution was the timing of Tsarnaev being Mirandized. Reportedly, his rights weren't read to him  until after 16 hours of interrogation. There are exceptions in the law that weigh public safety against a strict adherence to Miranda. The public safety exception allows law enforcement to minimize further danger to others while collecting evidence to make a case against the suspect. It's a matter of national safety first over attempting to obtain a confession from a suspect.
Although the Miranda decision is almost fifty years old, its application and meaning remains a subject of debate. The war on terrorism adds a new aspect to the matter since public safety is a paramount concern.
You can read more about your rights and being questioned at school by the police here.
Find great resources in our
---